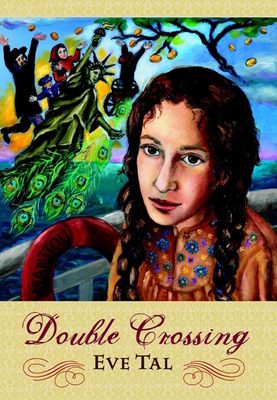 Double Crossing
A Jewish Immigration Story
Hardcover

* Individual store prices may vary.
Other Editions of This Title:
Paperback (10/1/2007)
Description
Outstanding in both its structure and its questioning of faith, this offering is not to be missed. -Kirkus Reviews (STARRED Review)
Best of all is the shocking surprise that changes everything, even Papa-a haunting aspect of the immigrant story left too long untold. -Booklist (STARRED Review)
The future for Jews in rural villages of Russia in 1905 held little promise. Stories of pogroms seeped through the countryside, and the czar was conscripting soldiers because of rumors of war and revolution. Benjamin Balaban, a poor but very devout Jew, determines to flee to America. He will take Raizel, his almost-twelve-year-old daughter, and once they are settled he will send for his wife and other children. Raizel doesn't understand the reasons for leaving. How can her village be dangerous? It's full of magic and the stories and poems that her grandmother Bubba tells her.
But go she must. Her odyssey with her father across Russia and Europe and on to America is full of adventure, adversity, and hardship. She desperately misses her family, but she retells Bubba's stories to keep her memories alive. Finally, they board a ship for America, but a terrible storm makes Raizel and her father sick. All their food is stolen, and Benjamin won't eat non-kosher food. At Ellis Island, his long beard and ear locks, his peasant clothes, his deep cough, and emaciated frame get them turned away from America. Raizel, though, is now determined to get back to America and the hope of a new life for her whole family. She must convince her father that he'll have to give up his orthodox food and traditions and put on the clothes of his new country. She and her father both will have to leave everything behind to make their final crossing to America.
Double Crossing is the winner of the Paterson Prize for Books for Young People and the Skipping Stones Honor Award, and is a Notable Book for a Global Society and a Notable Children's Book of Jewish Content.
Eve Tal was born in 1947 in New York City. She lives on Kibbutz Hatzor with her husband and three sons.
Praise For Double Crossing: A Jewish Immigration Story…
"The separation, the trauma, the dream of golden America, the journey across Europe, the ocean voyage, the inspections and arrival at Ellis Islandthe historical detail is dense. But Raizel's lively first-person narrative is anything but reverentialHer view of adults and kids, family and strangers, back home and on the perilous adventure, brings the people on the journey very close."—Booklist, starred review

"Raizel is the perfect vehicle for the narrativeHer love of storiesthat weave throughout the narrativeserves as both release from the terrors of the double crossing and prism for her spiritual quest." Kirkus Reviews, starred review

"With treacherous boat trips and interesting secondary characters, Tal's fictionalized account of her grandfather's journey to America is fast paced, full of suspense, and highly readable."School Library Journal

"Double Crossing is a gripping, emotionally moving tale of the trials and challengesTal tells this story, which is based on her own grandfather's experience, in Raizel's voice, weaving into it the history and her Jewish heritage."Skipping Stones, starred review

"Eve Tal offers here a new and interesting look at those unfortunates who made the long journey to America, only to be turned away and sent back home. Raizel is a real character, a girl who is quick-witted, flawed, and brave, and readers will be sure to enjoy this book." Nancy Austein, of the 2006 Sydney Taylor Book Award Committee

"[Raizel] is portrayed as a lively, inquisitive, brave, persistent girl, who loves to tell imaginative stories and desperately wants to go to school. Readers will identify with her and will feel her difficulties keenly." Marci Lavine Bloch, of the 2006 Sydney Taylor Book Award Committee

"This succulent story will enhance your holiday table with discussions about faith, family history, and changes in ritual observance through the generations. I highly recommend it as reading for both parents and children." World Jewish Digest

"There is enough danger and adventure in any immigration story, but Raizal's is different. The title hints but gives nothing away. The novel brings to life, at a very basic level, existence for a young Jewish girl." VOYA
Cinco Puntos Press, 9780938317944, 216pp.
Publication Date: October 1, 2005
About the Author
Eve Tal holds a masters degree in special education from Long Island University and is completing a master's degree in Children's Literature from Hollins University. She moved to Israel in the 1970s, living Kibbutz Hatzor. Eve has published four picture books in Hebrew. Her first novel Double Crossing was a finalist for the National Jewish Book Award.
or
Not Currently Available for Direct Purchase