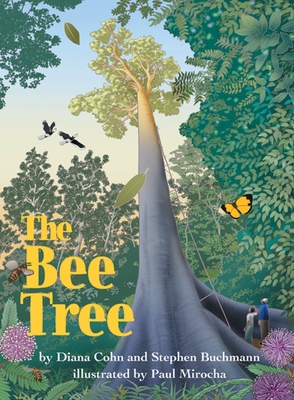 The Bee Tree (Hardcover)
Cinco Puntos Press, 9780938317982, 40pp.
Publication Date: April 1, 2007
* Individual store prices may vary.
or
Not Currently Available for Direct Purchase
Description
The Bee Tree is a magical story about giant bees, about trees that are higher than your eye can see in a forest that is more dark than light, and about a young boy named Nizam who soon will become a man.
Nizam lives in a village near the rainforest preserve surrounding PeduLake, just below the Thai border in Peninsular Malaysia. His grandfather Pak-Teh is the leader of the honey hunting clan. It is Pak-Teh who has the high honor of climbing the tall Tualang tree in the annual hunt to gather honey from the nests of giant honey bees.
But Pak-Teh is getting older and is now ready to prepare someone to take his place. He believes that Nizam is the one. Even though Nizam has climbed the mighty Tualang--the bee tree--in the daylight, he has never done it at night. Will he be brave enough?
On the first moonless night of the honey hunt, Nizam and Pak-Teh and the other honey hunters enter the dark rainforest. Pak-Teh starts the hunt with a prayer and a traditional story. Then he begins to climb. Nizam follows. Can he climb that high and not be afraid? Will the angry bees sting him?
At the top, Nizam and Pak-Teh use the honey hunters' secret to keep from being stung, while their clansmen below soothe the bees with chanting. After a week of gathering honey in the nights, the clan returns home to celebrate their sweet and miraculous golden harvest.
At this feast, Pak-Teh honors Nizam with an important announcement.
This is a collaboration between three remarkable people: a scientist who has been fascinated with insects since the third grade; a writer who believes that writing children's books is her way of building a better world; and an artist who never stops sketching and drawing as he travels.
Meet the creators of The Bee Tree
Stephen Buchmann has traveled all over the world studying bees. He is a member of the entomology department faculty at the University of Arizona, and the author/co-author of 150 scientific papers and 8 books (including The Forgotten Pollinators and Letters from the Hive). He is active in international pollination research, conservation and policies to protect the world's pollinators and the plants they pollinate. He served on a National Academy of Science committee investigating the status of pollinators in North America.
Diana Cohn is an award winning children's book author. Her books include Si, Se Puede / Yes, We Can (Cinco Puntos Press); Dream Carver (Chronicle Books); and Mr. Goethe's Garden (Bell Pond Books). She is a hobbyist beekeeper with a deep interest in pollination ecology. She first met Steve Buchmann while working on a radio documentary on the pollination crisis in America. As a result of their meeting they co-founded The Bee Works, an organization dedicated to public education about pollination ecology.
Paul Mirocha's illustrations first appeared in Gathering the Desert by Gary Paul Nabhan, winner of the John Burroughs Medal for natural history in 1985. After 13 years as a graphic designer for the University of Arizona's Office of Arid Lands Studies, Paul left to become a full-time illustrator, producing over 20 children's picture books and pop-ups as well as modern nature writing, among them High Tide in Tucson, Prodigal Summer, and Small Wonder, by Barbara Kingsolver. Paul has made five trips to Malaysia. His paintings in The Bee Tree come directly from his sketchbook and memories from those experiences.
About the Author
Stephen Buchmann is an amateur beekeeper, associate professor of entomology at the University of Arizona in Tucson, author of The Forgotten Pollinators, and founder of The Bee Works, an environmental company. Diana Cohn lives in northern California. When not writing or working on other creative projects, she works as a program officer for a national foundation on issues related to economic justice. She is also a hobbyist beekeeper. Paul Mirocha's artwork is noted for its combination of detail and emotional appeal. It is smart realism. Since 1990, Paul has illustrated over 20 children's picture books and pop-ups, and his illustrations have appeared in interpretive exhibits, scientific and popular publications, and books of adult and young adult fiction and contemporary nature writing.
Praise For The Bee Tree…
"Illustrator Paul Mirocha made five trips to Malaysia to perfectly capture the color, life, and near-magical wonder of the Malaysian rainforest and its bees in this wonderful picturebook, supplemented at the end with a section of amazing facts about Malaysia's rainforests, bee trees with up to one hundred bee honeycombs, and honey hunters. Highly recommended." —Midwest Book Review, starred review

"Despite the fact that much of the story takes place at night, the illustrations are bright enough for group sharing. Equally fascinating are the concluding eight pages of information and photographs…Although the story can stand alone, this additional information adds significantly to the book's effectiveness." —School Library Journal

"Back in the office everyone was impressed by the illustrations – and that a book about the environment includes both nature and people. We have been hard pressed to find books for young children about the environment that include people, and that include institutional sources of the problem." —Deborah Menkart, Executive Director, Teaching for Change

"[The authors and illustrator] turned their unique experience into a fictional picture book with a coming-of-age theme … The story is replete with authentic details and the fascinating factual backmatter includes small paintings from the artist's sketchbook and photographs." —Kirkus Reviews

"This book is meant to trigger children's thinking about ecology and the environment…it could be an excellent resource to include in an integrated curriculum unit about the rain forests or about pourquoi legends." —Children's Literature

"The Bee Tree is quite unforgettable, at least for this honey-gatherer. Let no son, daughter, niece, nephew, or grandchild be untouched by this masterpiece of sensibility for the planet." —Environmental Grantmakers Association Journal

"A beautifully-illustrated book that opens a window on a fascinating culture and a remarkable biological phenomenon." —David M. Schwartz, author of How Much is a Million

"Beautifully written and remarkably illustrated, the story follows the heart-warming journey of a teenager in learning the skills and rituals associated with this rite. In the process he, and the readers, become part of a magical world of special relationships, enduring beliefs and amazing beauty." —The Malaysian Star

"Taking almost a decade to be actualised, the book is the result of a coming together of extraordinary people from different backgrounds. Authored by Americans Dr Stephen Buchmann, 54, entomologist and environmental consultant, and Diana Cohn, 48, an award-winning children's book writer and hobbyist beekeeper, it features wonderful artwork by scientific illustrator Paul Mirocha, 52. " —The Malaysian Star

"Dr Stephen Buchmann from the University of Arizona has incorporated what he learnt [in Malaysia] in a children's book to be launched in the United States soon…The book has vibrant illustrations by his colleague Paul Mirocha." —The Malaysian Star
Advertisement