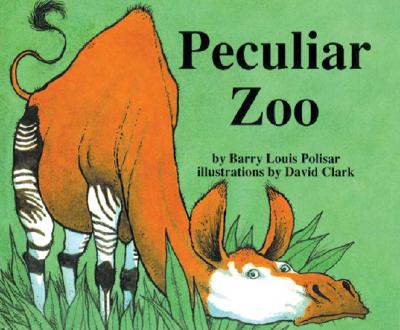 Peculiar Zoo (Rainbow Morning Music Picture Books) (Hardcover)
Rainbow Morning Music, 9780938663140, 32pp.
Publication Date: August 1, 1993
* Individual store prices may vary.
Description
Written entirely in verse and filled with intriguing facts about an extraordinary array of uncommon animals, this collection of poems and illustrations introduce children to some of the oddest creatures in the animal kingdom, including many rare and endangered species. Young readers will discover the Numbat, who has more teeth than any other animal, but swallows his food whole; the Proboscis Monkey with its long nose that it must move out of the way in order to eat; and the Naked Mole Rat, who is pictured stretched out on a divan, shielding herself with feathers. The poems in this book were featured on Barbara Bush's national radio show on ABC, Mrs. Bush's Story Time.
About the Author
Barry Louis Polisar is a children's recording artist. He lives in Silver Spring, Maryland.
Praise For Peculiar Zoo (Rainbow Morning Music Picture Books)…
"Polisar fans will be delighted . . . His sly rhymes inform the reader even as they poke fun at their subjects."  —Publishers Weekly
"This author/illustrator team has created a zany and definitely peculiar zoo book. Choosing 16 lesser-known animals such as the Okapi, Manatee and Solenodon, Clark has filled each large, double-page horizontal spread with a humorous watercolor-and-ink depiction of an animal. Polisar's witty poems describe the unique characteristics of each creature. The verses are informative and thought-provoking, as well as funny. Ideal for group, individual and lap reading, this selection should spark interest in extinct and endangered animals and their habitats. A short glossary gives concise facts about each animal."  —School Library Journal
or
Not Currently Available for Direct Purchase