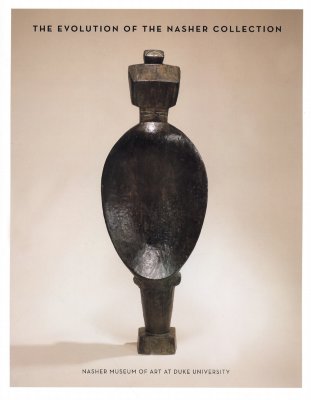 The Evolution of the Nasher Collection (Paperback)
Duke University Press, 9780938989264, 74pp.
Publication Date: September 6, 2005
* Individual store prices may vary.
Description
The Evolution of the Nasher Collection
is the catalog that accompanies the inaugural exhibition, on view from October 2, 2005, through May 21, 2006, at the new Nasher Museum of Art at Duke University. The exhibition draws from the collection of the museum's benefactor, Raymond D. Nasher, and his late wife, Patsy. The Nashers built one of the world's major collections of twentieth-century sculpture over the course of forty years. The exhibition includes seminal works by Auguste Rodin, Pablo Picasso, Henri Matisse, Alberto Giacometti, Jean Dubuffet, David Smith, Henry Moore, and others. Before sculpture, the Nashers collected ancient American art, Guatemalan textiles, contemporary prints, and paintings by Jean-Michel Basquiat and Andy Warhol. Many of these works, held in the Nashers' private residence, will be on public view--and published in this full-color catalog--for the first time.
The book offers a new approach to viewing and thinking about the Nasher Collection, concentrating not on the final, finished product, "the greatest collection of modern sculpture in private hands," but on the unfolding of the process of building that collection through time, its chronological development from the early 1950s to the present. In the history of any collection, there is a narrative of evolution--a beginning, which includes a motivation, followed by a process of change as the collector works out by experience and experimentation a personal approach to the gathering of objects of art. In the case of the Nasher collection, this personal approach is the result of a remarkable synergy between two individuals, Raymond D. Nasher and Patsy Nasher.
The essay by curator Sarah Schroth contextualizes the Nashers as collectors within the history of collecting practices in the United States in the second half of the twentieth century.
About the Author
Sarah Schroth is the Nancy Hanks Senior Curator at the Nasher Museum of Art at Duke University.
or
Not Currently Available for Direct Purchase