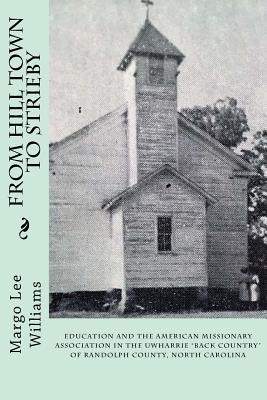 From Hill Town to Strieby
Education and the American Missionary Association in the Uwharrie "Back Country" of Randolph County, North Carolina
Paperback

* Individual store prices may vary.
Description
When former slave, Islay Walden returned to Southwestern Randolph County, North Carolina in 1879, after graduating from the New Brunswick Theological Seminary, as an ordained minister and missionary of the American Missionary Association, he moved in with his sister and her family in a secluded area in the Uwharrie Mountains, not far from the Lassiter Mill community along the Uwharrie River. Walden was sent to start a church and school for the African American community. When the church and school were begun this was, not surprisingly, a largely illiterate community of primarily Hill family members. The Hill family in this mountain community was so large, it was known as "Hill Town." The nearby Lassiter Mill community was larger and more diverse, but only marginally more literate. Walden and his wife accomplished much before his untimely death in 1884, including acquiring a US Postal Office for the community and a new name - Strieby. Despite Walden's death, the church and school continued into the 20th century when it was finally absorbed by the public school system, but not before impacting strongly the literacy and educational achievements of this remote community. From Hill Town to Strieby is Williams' second book and picks up where her first book about her ancestor Miles Lassiter, an early African American Quaker Miles Lassiter (circa 1777-1850) an Early African American Quaker from Lassiter Mill, Randolph County, North Carolina: My Research Journey to Home], left off. In From Hill Town to Strieby, she provides extensive research documentation on the Reconstruction-era community of Hill Town, that would become known as Strieby, and the American Missionary Association affiliated church and school that would serve both Hill Town and Lassiter Mill. She analyzes both communities' educational improvements by comparing census records, World War I Draft record signatures and reports of grade levels completed in the 1940 census. She provides well-documented four generation genealogical reports of the two principal founding families, the Hills and Lassiters, which include both the families they married into and the families that moved away to other communities around the country. She provides information on the family relationships of those buried in the cemetery and adds an important research contribution by listing the names gleaned from death certificates of those buried in the cemetery, but who have no cemetery markers. She concludes with information about the designation of the Strieby Church, School, and Cemetery property as a Randolph County Cultural Heritage Site. 364 pp. 44 illustrations.
Backintyme Publishing, 9780939479092, 454pp.
Publication Date: July 6, 2016