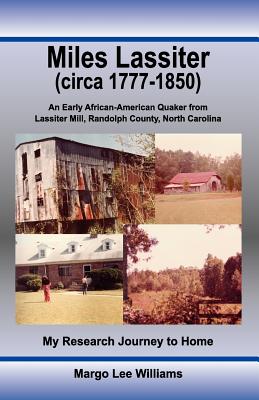 Miles Lassiter (circa 1777-1850)
An Early African-American Quaker from Lassiter Mill, Randolph County, North Carolina: My Research Journey to Home
Paperback

* Individual store prices may vary.
Description
Although antebellum African Americans were sometimes allowed to attend Quaker services, they were almost never admitted to full "meeting" membership, as was Miles Lassiter. His story illuminates the unfolding of the 19th-century color line into the 20th. It reminds us that, while traditional texts recount grand events, true history tells of everyday people who do extraordinary things quietly, not even realizing that they have left their mark.Margo Williams had only a handful of stories and a few names her mother remembered from her childhood about her family's home in Asheboro, North Carolina. Her research would soon help her to make contact with long lost relatives and a pilgrimage "home" with her mother in 1982. Little did she know she would discover a large loving family and a Quaker ancestor--a Black Quaker ancestor. This story follows her research journey through records and Carolina countryside as she uncovers her roots.
Backintyme, 9780939479382, 150pp.
Publication Date: November 3, 2011
About the Author
Margo Lee. Williams was born in New York. She holds an MA in Sociology and an MA in Religious Education.. She developed an interest in genealogy early in life, but only after moving to Washington DC did she actively pursue family research. In the 30+ years since, she has researched and written extensively on her family. She is a well-known lecturer for the Family History Centers of the LDS Church in the Washington, DC area, a former editor of the Journal of the Afro-American Historical and Genealogical Society, and through her private research company, Personal Prologue, has developed expertise in identifying heirs for intestate probates. She is currently a National Service Officer with Vietnam Veterans of America. She lives in Silver Spring, Maryland with her daughter, Turquoise Williams.