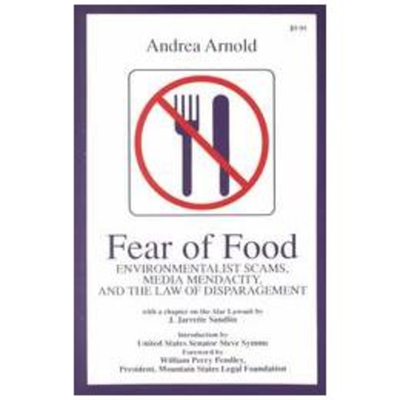 Fear of Food: Environmentalist Scams, Media Mendacity, and the Law of Disparagement (Paperback)
Environmentalist Scams, Media Mendacity, and the Law of Disparagement
Merril Press, 9780939571086, 164pp.
Publication Date: January 1, 2010
* Individual store prices may vary.
or
Not Currently Available for Direct Purchase
Description
Fear of Food is the story of how a campaign against one chemical, Alar, devastated apple growers from New York to Washington State, told for what it really was: A well-orchestrated effort to raise money and recruit supporters by frightened mothers with false alarms about apples and cancer. The fear of food, as author Andrea Arnold calls it, is one of the most serious collective panic attacks we as a nation have ever experienced. Its instigators, well-known interest groups and the news media, are threatening the agricultural productivity of the nation with highly exaggerated stories of imminent hazards that upon investigation turn out to be low-level risks already being removed by our regulatory agencies. Modern agriculture of the kind that feeds hundreds of millions of people cannot thrive without safe controls on the myriad of pests that decimate crops annually. Properly tested and approved pesticides are essential to our survival. By spreading false and misleading scare stories of exaggerated dangers from pesticides, the instigators could very well cause public panic and ill-conceived political measures that would destroy America's farm productivity- and the American farmer.
Advertisement