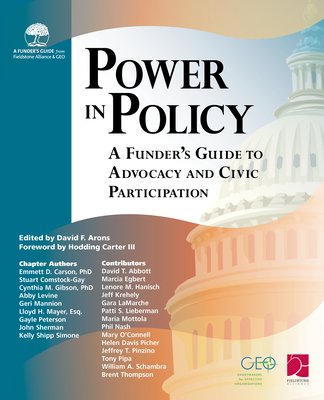 Power in Policy (Paperback)
A Funder's Guide to Advocacy and Civic Participation
Fieldstone Alliance, 9780940069459, 307pp.
Publication Date: February 2, 2007
* Individual store prices may vary.
Description
Why should funders try to shape public policy? Simply put, because public policy has impact on mission. And, it's the only way to affect the laws that determine how people will be treated, what services will be provided, and what behaviors are acceptable. But what role should foundations play? Power in Policy, written primarily by foundation practitioners for foundations, is the first book that makes a strong case for why advocacy and civic participation are fundamental roles for foundations; shares insights, lessons, and perspectives from foundation leaders and legal and philanthropic experts on how to engage in, talk about, and incorporate advocacy into; philanthropy--and the nature of their role in the policymaking arena; answers frequently asked questions including, "How does my foundation assess various risks?" "How do we organizationally prepare for public policy work, and develop partnerships and advocacy strategies?"; gives rich case stories of how private and community foundations--including large and small foundations--are meeting their missions through public policy and civic activity; presents clearly and concisely key policy principles, legal rules, and evaluation methods; and provides a toolkit for foundations to develop the capacity to engage in advocacy at their own speed and resource level. This book is divided into six parts: three major sections and three appendices. You don't need to start at the beginning and read to the end. Start at the chapter most useful to you and your organization. The chapters correspond to frequently asked questions by foundations. From big picture concerns--like the risks and rewards of advocacy--to specifics such as legal rules, this guide shows what advocacy means in terms of work and outcomes and how foundations can develop and launch their own public policy activities. Power in Policy is a must-have for foundations who want to have a long-term impact on the communities and causes they care about.