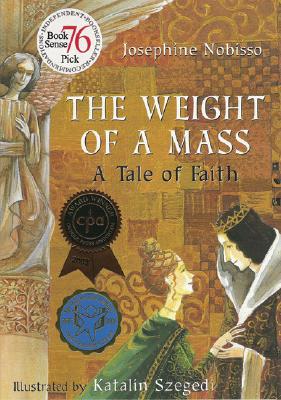 The Weight of a Mass: A Tale of Faith (Hardcover)
A Tale of Faith
Gingerbread House, 9780940112094, 32pp.
Publication Date: June 1, 2002
Description
When a poor devout widow begs for a scrap of bread from a rich faithless baker, she promises to participate in the king's wedding mass as payment for the baker's generosity. The baker writes One Mass on a scrap of paper and places it on his scale to determine how much bread it is worth. To his and the entire town's surprise, nothing in the shop, not even the gigantic wedding cakes made for the king, outweighs the simple piece of paper representing the true worth of a mass. Luminous old-world watercolor paintings grace the interior of the book and gold foil artwork lends an air of solemnity and sacred beauty to the story.

About the Author
Josephine Nobisso is the author of 17 books including "Grandpa Loved," "Grandma s Scrapbook," and "The Moon s Lullaby." She lives in Quogue, New York. Katalin SzegediS has illustrated numerous children s books and was awarded the Most Beautiful Children s Book Award by the Society of Hungarian Publishers and Distributors.

"
Advertisement