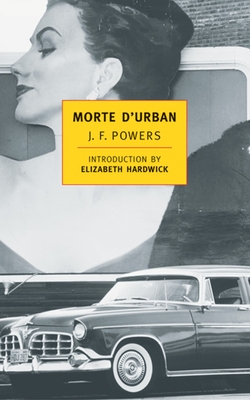 Morte D'Urban (Paperback)
NYRB Classics, 9780940322233, 360pp.
Publication Date: May 31, 2000
* Individual store prices may vary.
Description
Winner of The 1963 National Book Award for Fiction.

The hero of J.F. Powers's comic masterpiece is Father Urban, a man of the cloth who is also a man of the world. Charming, with an expansive vision of the spiritual life and a high tolerance for moral ambiguity, Urban enjoys a national reputation as a speaker on the religious circuit and has big plans for the future. But then the provincial head of his dowdy religious order banishes him to a retreat house in the Minnesota hinterlands. Father Urban soon bounces back, carrying God's word with undaunted enthusiasm through the golf courses, fishing lodges, and backyard barbecues of his new turf. Yet even as he triumphs his tribulations mount, and in the end his greatest success proves a setback from which he cannot recover.

First published in 1962, Morte D'Urban has been praised by writers as various as Gore Vidal, William Gass, Mary Gordon, and Philip Roth. This beautifully observed, often hilarious tale of a most unlikely Knight of Faith is among the finest achievements of an author whose singular vision assures him a permanent place in American literature.
About the Author
J. F. Powers (1917-1999) was born in Jacksonville, Illinois, and studied at Northwestern University while holding a variety of jobs in Chicago and working on his writing. He published his first stories in The Catholic Worker and, as a pacifist, spent thirteen months in prison during World War II. Powers was the author of three collections of short stories and two novels—Morte D'Urban, which won the National Book Award, andWheat That Springeth Green—all of which have been reissued by New York Review Books. He lived in Ireland and the United States and taught for many years at St John's University in Collegeville, Minnesota.

Elizabeth Hardwick (1916-2007) was born in Lexington, Kentucky, and educated at the University of Kentucky and Columbia University. A recipient of a Gold Medal from the American Academy of Arts and Letters, she is the author of three novels, a biography of Herman Melville, and four collections of essays. She was a co-founder and advisory editor of The New York Review of Books and contributed more than one hundred reviews, articles, reflections, and letters to the magazine. NYRB Classics publishes Sleepless Nights, a novel, and Seduction and Betrayal, a study of women in literature.
Praise For Morte D'Urban…
"D'Urban is a gem—a supremely funny tale about Father Urban, a Midwestern priest who believes in golf, baseball, scotch, and the Roman Catholic Church, perhaps in that order. Fr. Urban's struggles with the management of a parish are rendered with a comic's timing, and Powers's prose and dialogue are as sharp as anything in Flannery O'Connor. Is anyone as funny today? Maybe David Gates; maybe Tom Drury." —Publishers Weekly

"Superbly comic" — Nancy Pearl, Book Lust

"Each sentence tends to be an event; yet every event, like every firm but fluent sentence, is an open door into the next half—expected, half—shocking encounter….Morte D'Urbanis [J.F. Powers's] supreme fiction." — F.W. Dupee

"…[Powers's] priests were creatures of a vivid, sympathetic, and unerring imagination…." — Andrew Greeley, Commonweal