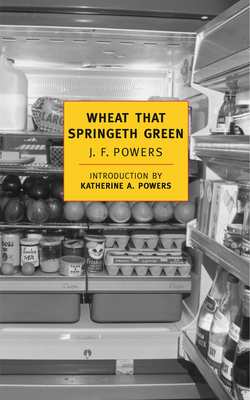 Wheat that Springeth Green
Paperback

* Individual store prices may vary.
Description
Wheat That Springeth Green, J. F. Powers's beautifully realized final work, is a comic foray into the commercialized wilderness of modern American life. Its hero, Joe Hackett, is a high school track star who sets out to be a saint. But seminary life and priestly apprenticeship soon damp his ardor, and by the time he has been given a parish of his own he has traded in his hair shirt for the consolations of baseball and beer. Meanwhile Joe's higher-ups are pressing for an increase in profits from the collection plate, suburban Inglenook's biggest business wants to launch its new line of missiles with a blessing, and not all that far away, in Vietnam, a war is going on. Joe wants to duck and cover, but in the end, almost in spite of himself, he is condemned to do something right.

J. F. Powers was a virtuoso of the American language with a perfect ear for the telling cliché and an unfailing eye for the kitsch that clutters up our lives. This funny and very moving novel about the making and remaking of a priest is one of his finest achievements.
Praise For Wheat that Springeth Green…
"Jim Powers was a great old Irish master who God plopped down in Minnesota as a joke, a dark wit on the prairie, and he left behind a small satchel of unforgettable writing." — Garrison Keillor

"There is not a misplaced comma, not a wrong word…Powers set up his sentences to explode at the end, so that there are marvelous little internal combustions going off like firecrackers all over the page." — Donna Tartt, Harpers
NYRB Classics, 9780940322240, 352pp.
Publication Date: May 31, 2000
About the Author
J. F. Powers (1917-1999) was born in Jacksonville, Illinois, and studied at Northwestern University while holding a variety of jobs in Chicago and working on his writing. He published his first stories in The Catholic Worker and, as a pacifist, spent thirteen months in prison during World War II. Powers was the author of three collections of short stories and two novels—Morte D'Urban, which won the National Book Award, andWheat That Springeth Green—all of which have been reissued by New York Review Books. He lived in Ireland and the United States and taught for many years at St John's University in Collegeville, Minnesota.

Katherine A. Powers is a long-time champion of the novels of Raymond Kennedy. She is a freelance book critic and writes a literary column for the Barnes and Noble Review. She is the editor of a forthcoming volume, Suitable Accommodations: The Letters of J. F. Powers, 1942 - 1963. She lives in Cambridge, Massachusetts.