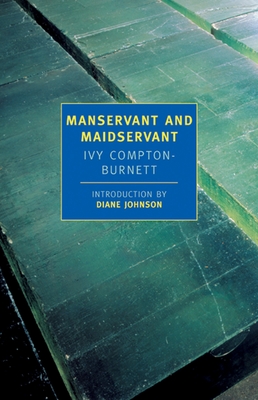 Manservant and Maidservant (Paperback)
NYRB Classics, 9780940322639, 328pp.
Publication Date: February 28, 2001
* Individual store prices may vary.
Description
At once the strangest and most marvelous of Ivy Compton-Burnett's fictions, Manservant and Maidservant has for its subject the domestic life of Horace Lamb, sadist, skinflint, and tyrant. But it is when Horace undergoes an altogether unforeseeable change of heart that the real difficulties begin. Is the repentant master a victim along with the former slave? And how can anyone endure the memory of the wrongs that have been done?"
About the Author
Ivy Compton-Burnett (1892-1969) wrote over fifteen novels about the upper classes of the late Victorian period. The novels are constructed almost entirely of seemingly banal dialogue that eventually reveals, beneath its surface, the truths of human nature and insights into human relationships which Compton-Burnett took as her themes. Her works include Pastors and Masters, A Family and a Fortune, Manservant and Maidservant, and A House and Its Head. 

Diane Johnson's most recent novel is Lulu in Marrakech.
Praise For Manservant and Maidservant…
The realism of this novel [Manservant and Maidservant] like the realism of all Dame Ivy's novels goes far beyond verisimilitude to some psychologically consistent truth that transcends words.
— Constance Lewis

A remarkable and unusual novelist, who has, in her own well-tilled field, no rival and no parallel.
— Times Literary Supplement

The thing is, Compton-Burnett is absolutely sui generis, although she's often compared to Jane Austen. But as Francine Prose points out in the afterward to one of these new editions, she is Austen on bad drugs. Compton-Burnett herself was loftily dismissive of a comparison with Henry James. Her remorseless humor and savagery are a unique cocktail. There's no middle ground with this novelist—you're either bewildered by her or you become an addict. The technical term for the latter is an Ivyist. I do urge you to find out where you stand.
— Maria Aitken, Bomb