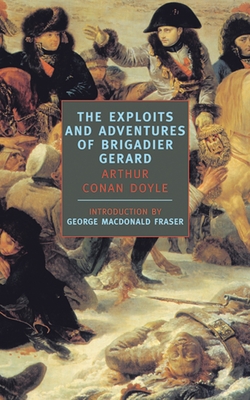 Exploits and Adventures of Brigadier Gerard (Paperback)
New York Review of Books, 9780940322738, 417pp.
Publication Date: April 30, 2001
Description
Having killed off Sherlock Holmes, Sir Arthur Conan Doyle began a new series of tales on a very different theme. Brigadier Gerard is an officer in Napoleon's army?recklessly brave, engagingly openhearted, and unshakable, if not a little absurd, in his devotion to the enigmatic Emperor. The Brigadier's wonderful comic adventures, long established in the affections of Conan Doyle's admirers as second only to those of the incomparable Holmes, are sure to find new devotees among the ardent fans of such writers as Patrick O'Brian and George MacDonald Fraser.
About the Author
Sir Arthur Conan Doyle (1859-1930) graduated from Edinburgh University with a medical degree in 1881 and traveled as a ship's doctor before settling down into a private practice. He wrote Sherlock Holmes stories for four years before killing off the suave detective, only to resurrect him in The Hound of the Baskervilles in 1902. His historical fiction took the form of a novel, The White Company (1891), and the epic tales of the adventurous Brigadier Gerard. George MacDonald Fraser, OBE (1925 -2008) was an English-born author of Scottish descent, best known for his Flashman novels and McAuslan stories. He was also an accomplished screenwriter.
Praise For Exploits and Adventures of Brigadier Gerard…
"In its pages you will find adventure, action, romance, love and self-sacrifice, hair's-breadth escape and reckless courage, gallantry, panache and a droll, backhand humor that rivals that of P.G. Wodehouse. You will also find yourself, even more than with the celebrated stories of Holmes and Watson, in the hands of an indisputable artist. For more than any other adventure stories I know, these stories have a power to move the reader." — Michael Chabon on NPR's "You Must Read This"

"…One of the cleverest of Conan Doyle's lighter works, full of spirit, ingenuity, and drollery." — The New York Times

"Brigadier Gerard is, after Holmes and Watson, Conan Doyle's most successful literary creation." — Julian Symons
Advertisement