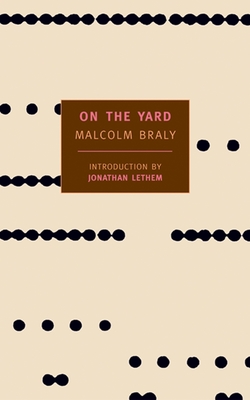 On the Yard
Paperback

* Individual store prices may vary.
Description
A major American novel, and arguably the finest work of literature ever to emerge from a US prison, On the Yard is a book of penetrating psychological realism in which Malcolm Braly paints an unforgettable picture of the complex and frightening world of the penitentiary. At its center are the violently intertwined stories of Chilly Willy, in trouble with the law from his earliest years and now the head of the prison's flourishing black market in drugs and sex, and of Paul, wracked with guilt for the murder of his wife and desperate for some kind of redemption. At once brutal and tender, clear-eyed and rueful, On the Yard presents the penitentiary not as an exotic location, an exception to everyday reality, but as an ordinary place, one every reader will recognize, American to the core.
Praise For On the Yard…
"Surely the great American prison novel" — Kurt Vonnegut, Jr.

"Life in prison is the subject of Braly's 1967 classic, now back in print with an introduction by Jonathan Lethem. Braly, who wrote the book while doing time in San Quentin, has an uncommon ear for the rhythms of big house speech. The expertly drawn ensemble cast and institutional insight may remind readers of One Flew Over the Cuckoo's Nest—Braly does for prisons what Kesey did for the insane asylum." — Publishers Weekly

"A handful of authors have portrayed the human condition of prison life with the indelible stamp of authenticity—Dostoevski, Alexander Solzhenitisyn, Brendan Behan, and Genet are among them. Now in the same genre comes Malcolm Braly's On the Yard…His eye is true and his writing faultless." — The Times (London)
NYRB Classics, 9780940322967, 368pp.
Publication Date: January 31, 2002
About the Author
Malcolm Braly (1925–1980) was born in Portland, Oregon. Abandoned by his parents, Braly lived between foster homes and institutions for delinquent children, and by the time he was forty had spent nearly seventeen years in prison for burglary, serving time at Nevada State Prison, San Quentin, and Folsom State Prison. He wrote three novels behind bars, Felony Tank (1961),Shake Him Till He Rattles (1963), and It's Cold Out There(1966), and upon his release in 1965 began to work on On the Yard. When prison authorities learned of the book they threatened to revoke his parole, and he was forced to complete it in secret. Published in 1967, after Braly's parole had expired, On the Yard received wide acclaim. It was followed by his autobiography, False Starts: A Memoir of San Quentin and Other Prisons (1976), and a final work of fiction, The Protector(1979). Malcolm Braly enjoyed fifteen years of freedom before his death in a car accident at age fifty-four.

Jonathan Lethem is the author of seven novels, including Motherless Brooklyn and The Fortress of Solitude. He lives in Brooklyn and in Maine.