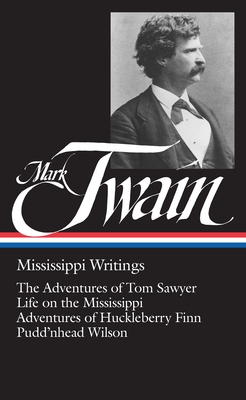 Mark Twain
Mississippi Writings (LOA #5): The Adventures of Tom Sawyer / Life on the Mississippi / Adventures of Huckleberry Finn / Pudd'nhead Wilson (Library of America Mark Twain Edition #1)
Hardcover

* Individual store prices may vary.
Description
Mark Twain is perhaps the most widely read and enjoyed of all our national writers. This Library of America collection presents his best-known works, together for the first time in one volume.
Tom Sawyer "is simply a hymn," said its author, "put into prose form to give it a worldly air," a book where nostalgia is so strong that it dissolves the tensions and perplexities that assert themselves in the later works. Twain began Huckleberry Finn the same year Tom Sawyer was published, but he was unable to complete it for several more. It was during this period of uncertainty that Twain made a pilgrimage to the scenes of his childhood in Hannibal, Missouri, a trip that led eventually to Life on the Mississippi. The river in Twain's descriptions is a bewitching mixture of beauty and power, seductive calms and treacherous shoals, pleasure and terror, an image of the societies it touches and transports.
 
Each of these works is filled with comic and melodramatic adventure, with horseplay and poetic evocations of scenery, and with characters who have become central to American mythology—not only Tom Sawyer and Huck Finn, but also Roxy, the mulatto slave in Puddn'head Wilson, one of the most telling portraits of a woman in American fiction. With each book there is evidence of a growing bafflement and despair, until with Puddn'head Wilson, high jinks and games, far from disguising the terrible cost of slavery, become instead its macabre evidence.
 
Through each of four works, too, runs the Mississippi, the river that T. S. Eliot, echoing Twain, was to call the "strong brown god." For Twain, the river represented the complex and often contradictory possibilities in his own and his nation's life. The Mississippi marks the place where civilization, moving west with its comforts and proprieties, discovers and contends with the rough realities, violence, chicaneries, and promise of freedom on the frontier. It is the place, too, where the currents Mark Twain learned to navigate as a pilot—an experience recounted in Life on the Mississippi—move inexorably into the Deep South, so that the innocence of joyful play and boyhood along its shores eventually confronts the grim reality of slavery.

LIBRARY OF AMERICA is an independent nonprofit cultural organization founded in 1979 to preserve our nation's literary heritage by publishing, and keeping permanently in print, America's best and most significant writing. The Library of America series includes more than 300 volumes to date, authoritative editions that average 1,000 pages in length, feature cloth covers, sewn bindings, and ribbon markers, and are printed on premium acid-free paper that will last for centuries.
Library of America, 9780940450073, 1126pp.
Publication Date: November 1, 1982
About the Author
Mark Twain was born Samuel Langhorne Clemens in Florida, Missouri, in 1835, and died at Redding, Connecticut in 1910. In his person and in his pursuits he was a man of extraordinary contrasts. Although he left school at twelve when his father died, he was eventually awarded honorary degrees from Yale University, the University of Missouri, and Oxford University. His career encompassed such varied occupations as printer, Mississippi riverboat pilot, journalist, travel writer, and publisher. He made fortunes from his writing but toward the end of his life he had to resort to lecture tours to pay his debts. He was hot-tempered, profane, and sentimental—and also pessimistic, cynical, and tortured by self-doubt. His nostalgia helped produce some of his best books. He lives in American letters as a great artist, the writer whom William Dean Howells called "the Lincoln of our literature."