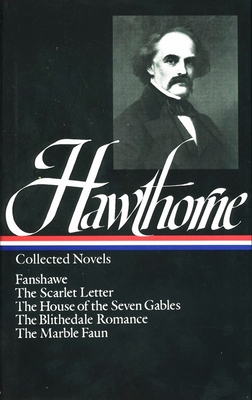 Nathaniel Hawthorne (Hardcover)
Collected Novels (LOA #10): The Scarlet Letter / The House of Seven Gables / The Blithedale Romance / Fanshawe / The Marble Faun (Library of America Nathaniel Hawthorne Edition #2)
Library of America, 9780940450080, 1272pp.
Publication Date: April 15, 1983
Other Editions of This Title:
Paperback (4/28/2019)
* Individual store prices may vary.
Description
Here, in one Library of America volume, are all five of Hawthorne's world-famous novels. Written in a richly suggestive style that seems remarkably contemporary, they are permeated by his own history as well as America's.

In The House of the Seven Gables, for example, Hawthorne alludes to his ancestor's involvement in the Salem witch trials, as he follows the fortunes of two rival families, the Maules and the Pyncheons. The novel moves across 150 years of American history, from an ancestral crime condoned by Puritan theocracy to reconciliation and a new beginning in the bustling Jacksonian era.

Considered Hawthorne's greatest work, The Scarlet Letter is a dramatic allegory of the social consequences of adultery and the subversive force of personal desire in a community of laws. The transgression of Hester Prynne and Arthur Dimmesdale; the innate lawlessness of their bastard child, Pearl; and the torturous jealousy of the husband Roger Chillingworth eventually erupt through the stern reserve of Puritan Boston. The Scarlet Letter engages the moral and romantic imagination of readers who ponder the question of sexual freedom and its place in the social world.

Fanshawe is an engrossing apprentice work that Hawthorne published anonymously and later sought to suppress. Written during his undergraduate years at Bowdoin College, it is a tragic romance of an ascetic scholar's love for a merchant's daughter.

The Blithedale Romance is a novel about the perils, which Hawthorne knew first-hand, of living in a utopian community. The utilitarian reformer Hollingsworth, the reticent narrator Miles Coverdale, the unearthly Priscilla, and the sensuous Zenobia (purportedly modeled on Margaret Fuller) act out a drama of love and rejection, idealism and chicanery, millennial hope and suicidal despair on an experimental commune in rural Massachusetts.

The Marble Faun, Hawthorne's last finished novel, uses Italian landscapes where sunlight gives way to mythological shadings as a background for mysteries of identity and murder. Its two young Americans, Kenyon and Hilda, become caught up in the disastrous passion of Donatello, an ingenuous nobleman, for the beautiful, mysterious Miriam, a woman trying to escape her past.

LIBRARY OF AMERICA is an independent nonprofit cultural organization founded in 1979 to preserve our nation's literary heritage by publishing, and keeping permanently in print, America's best and most significant writing. The Library of America series includes more than 300 volumes to date, authoritative editions that average 1,000 pages in length, feature cloth covers, sewn bindings, and ribbon markers, and are printed on premium acid-free paper that will last for centuries.
About the Author
Nathaniel Hawthorne was born on July 4, 1804, in Salem, Massachusetts, the son and grandson of proud New England seafarers. He lived in genteel poverty with his widowed mother and two young sisters in a house filled with Puritan ideals and family pride in a prosperous past. His boyhood was, in most respects, pleasant and normal. In 1825 he was graduated from Bowdoin College, Brunswick, Maine, and he returned to Salem determined to become a writer of short stories. For the next twelve years he was plagued with unhappiness and self-doubts as he struggled to master his craft. He finally secured some small measure of success with the publication of his Twice-Told Tales (1837). His marriage to Sophia Peabody in 1842 was a happy one. The Scarlet Letter (1850), which brought him immediate recognition, was followed by The House of the Seven Gables (1851). After serving four years as the American Consul in Liverpool, England, he traveled in Italy; he returned home to Massachusetts in 1860. Depressed, weary of writing, and failing in health, he died on May 19, 1864, at Plymouth, New Hampshire.
or
Not Currently Available for Direct Purchase