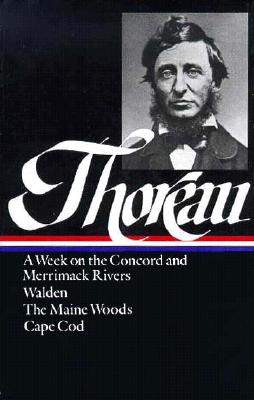 Henry David Thoreau: A Week on the Concord and Merrimack Rivers, Walden, the Maine Woods, Cape Cod (Hardcover)
A Week on the Concord and Merrimack Rivers, Walden, the Maine Woods, Cape Cod
Library of America, 9780940450271, 1114pp.
Publication Date: September 15, 1989
Description
The library of America is dedicated to publishing America's best and most significant writing in handsome, enduring volumes, featuring authoritative texts. Hailed as the "finest-looking, longest-lasting editions ever made" (The New Republic), Library of America volumes make a fine gift for any occasion. Now, with exactly one hundred volumes to choose from, there is a perfect gift for everyone.

About the Author
Henry David Thoreau was born in Concord, Massachusetts in 1817. He graduated from Harvard in 1837, the same year he began his lifelong Journal. Inspired by Ralph Waldo Emerson, Thoreau became a key member of the Transcendentalist movement that included Margaret Fuller and Bronson Alcott. The Transcendentalists' faith in nature was tested by Thoreau between 1845 and 1847 when he lived for twenty-six months in a homemade hut at Walden Pond. While living at Walden, Thoreau worked on the two books published during his lifetime: Walden (1854) and A Week on the Concord and Merrimack Rivers (1849). Several of his other works, including The Maine Woods, Cape Cod, and Excursions, were published posthumously. Thoreau died in Concord, at the age of forty-four, in 1862.
Advertisement