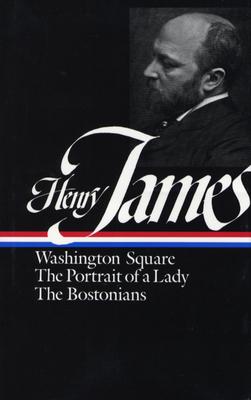 Henry James
Novels 1881-1886 (LOA #29): Washington Square / The Portrait of a Lady / The Bostonians (Library of America Complete Novels of Henry James #2)
Hardcover

* Individual store prices may vary.
Other Editions of This Title:
Paperback (8/19/2019)
Paperback (8/20/2019)
Hardcover (4/19/2016)
Paperback (7/14/2014)
Paperback (7/30/2018)
Hardcover (12/21/1983)
Paperback (12/21/1983)
Description
Written in London and Italy between 1879 and 1885, the novels in this Library of America volume portray American women confronting crises of independence and possession. Studies in the exercise of power that marks relations between sexes, classes, and cultures, they show James's special solicitude for the young heroines who occupy the center of his fictional world.

Washington Square (1880) examines the life of Catherine Sloper, a plain, sweet, young woman who lives imprisoned by the selfishness of those close to her: her lover, who cares only for her fortune; her aunt, who meddles for the sake of romantic intrigue; and her protective father, who repays her adoration with irony and wit. Set in the New York of the 1840s, Washington Square evokes the still-intimate city of James's childhood while presenting a frightening moral lesson in the human consequences of manipulation and indifference.

The Portrait of a Lady (1881) is the story of Isabel Archer, a beautiful, idealistic, and inexperienced American woman who is made wealthy by her uncle at the instigation of her dying cousin. Surrounded by the seductive pleasures of nineteenth-century Europe, she preserves her idealism despite involvement with some who would divert her life to uses of their own—Caspar Goodwood, virile American captain of industry; Lord Warburton, scion of British aristocracy; Gilbert Osmond, connoisseur and collector of beautiful objects; Madame Merle, subtle and charming expatriate of unknown connections; and indomitable Henrietta Stackpole, roving journalist and steadfast friend. James's many-layered masterpiece concerns the perilous American pursuit of individual freedom.

The Bostonians (1886) presents an unusual contest for the affections of Verena Tarrant, the lovely, naïve, and pliant daughter of a mesmerist lecturer. She is courted by two cousins: Basil Ransom, an impractical Mississippi landowner now pursuing a meager New York legal practice, and Olive Chancellor, a rich young Boston feminist. Against the richly textured backdrop of Boston and New York society, they enact a drama of confused identity and willful calculation that demonstrates the power and the perils engendered by the refusal of self-knowledge.

LIBRARY OF AMERICA is an independent nonprofit cultural organization founded in 1979 to preserve our nation's literary heritage by publishing, and keeping permanently in print, America's best and most significant writing. The Library of America series includes more than 300 volumes to date, authoritative editions that average 1,000 pages in length, feature cloth covers, sewn bindings, and ribbon markers, and are printed on premium acid-free paper that will last for centuries.
Library of America, 9780940450301, 1262pp.
Publication Date: December 1, 1985
About the Author
Henry James
(1843-1916), born in New York City, was the son of noted religious philosopher Henry James, Sr., and brother of eminent psychologist and philosopher William James. He spent his early life in America and studied in Geneva, London and Paris during his adolescence to gain the worldly experience so prized by his father. He lived in Newport, went briefly to Harvard Law School, and in 1864 began to contribute both criticism and tales to magazines.
In 1869, and then in 1872-74, he paid visits to Europe and began his first novel, Roderick Hudson. Late in 1875 he settled in Paris, where he met Turgenev, Flaubert, and Zola, and wrote The American (1877). In December 1876 he moved to London, where two years later he achieved international fame with Daisy Miller. Other famous works include Washington Square (1880), The Portrait of a Lady (1881), The Princess Casamassima (1886), The Aspern Papers (1888), The Turn of the Screw (1898), and three large novels of the new century, The Wings of the Dove (1902), The Ambassadors (1903) and The Golden Bowl (1904). In 1905 he revisited the United States and wrote The American Scene (1907).
During his career he also wrote many works of criticism and travel. Although old and ailing, he threw himself into war work in 1914, and in 1915, a few months before his death, he became a British subject. In 1916 King George V conferred the Order of Merit on him. He died in London in February 1916.
or
Not Currently Available for Direct Purchase