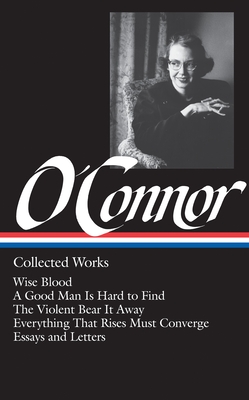 O'Connor: Collected Works (Hardcover)
Collected Works
Library of America, 9780940450370, 1300pp.
Publication Date: September 1, 1988
Description
Flannery O'Connor, a unique and important figure in the Southern literary tradition, was one of the finest writers of the twentieth century. This volume, containing her two novels, short stories, essays and letters, is the only complete collection of her works.

About the Author
Flannery O'Connor was born in Savannah, Georgia, on March 25, 1925, and was raised as a devout Roman Catholic in Milledgeville, Georgia. Upon graduation from the Graduate Program of the Women's College of Georgia, O'Connor attended the writing program at the State University of Iowa, receiving her MFA in 1947. Among the strongest influences on O'Connor's work were the writings of William Faulkner and Nathanael West, from whom she derived her conception of the grotesque in literature. Following the publication of numerous short stories in literary journals, O'Connor's first novel, Wise Blood, was published in 1952. Suffering from a hereditary rheumatic ailment, she spent the next twelve years writing at the family farm in Milledgeville under the care of her mother, Regina, and the strictest medical super vision. A Good Man is Hard to Find, a collection of short stories, was published in 1955, and another novel, The Violent Bear It Away, appeared in 1960. Though seriously ill, O'Connor made an extensive series of lecture tours, received an honorary degree from Smith College in 1963, and that same year, won first prize in the annual O'Henry short story awards (as she had previously done in 1956). After her death on August 3, 1964, another collection of short stories, Everything That Rises Must Converge, was published (1965), as well as a volume of unpublished lectures and essays and various critical articles, Mystery and Manners (1969).
Advertisement