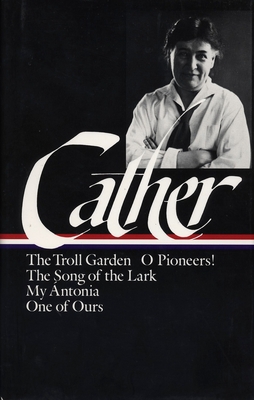 Willa Cather
Early Novels & Stories (LOA #35): The Troll Garden / O Pioneers! / The Song of the Lark / My Ántonia / One of Ours (Library of America Willa Cather Edition #1)
Hardcover

* Individual store prices may vary.
Description
"Let your fiction grow out of the land beneath your feet." Willa Cather's remark describes her own reasons for re-creating in her works the Nebraska frontier of her youth. Set on the vast northern Great Plains, where the earth has only recently come beneath the plow, the stories and novels in this Library of America volume partake of an impressive physical space and a uniquely American ethnic. Panoramas of lonely prairie and open sky reflect the heroic aspirations and stoicism of her characters and the rebelliousness of their spirit.

The Troll Garden (1905) was Cather's first book of fiction. It contains seven stories, including the justly famous "Paul's Case," a study of a young man who escapes the world of the ordinary and briefly tastes the life of romance. Also included is "The Sculptor's Funeral," about a world-famous young artist who remains without honor in his native town.

O Pioneers! (1913) is the story of a young Swedish-American girl, Alexandra Bergson, who is left to manage the homestead farm when her father dies. Although she must contend with the shiftlessness of two brothers and the brutal murder of a third, her instinctive identification with the forces of nature helps bring the land to abundant fruition, and she finds her own happiness in a kindred spirit—an engraver, gold prospector, and fellow dreamer.

In her lyrical novel The Song of the Lark (1915), Cather's love of music and theater and her faith in the spiritual influence of the Western landscape find expression in the ardent and talented Thea Kronborg. Moving from Colorado to Chicago to the primitive Southwest, Thea finds her destiny not in romance, but as a great Wagnerian soprano in the Metropolitan Opera. Her success, and that of all Cather's heroines, derives from what the author calls "the naïve, generous country that gave on its joyous force."

A masterpiece at once austere and exuberant, historical and mythical, My Ántonia (1918) portrays a family of Bohemian emigrants on the Nebraska frontier. Despite the suicide of her father and the desertion of the father of her child, Ántonia Shimerda retains an unselfish nature that allows her to undergo years of drudgery and still affirm a courageous passion for life and motherhood—a dauntlessness intrinsically rooted in the awesome wonder of the prairie.

One of Ours, winner of the Pulitzer Prize in 1922, portrays the blighting effects of twentieth-century progress on a free spirit from the American frontier. Claude Wheeler, its hero, is an imaginative, restless young man who leaves his claustrophobic small town to become a soldier in France during World War I. The Old World shows him culture, art, generosity, and appreciation, and also the horror, waste, and tragedy of war.

LIBRARY OF AMERICA is an independent nonprofit cultural organization founded in 1979 to preserve our nation's literary heritage by publishing, and keeping permanently in print, America's best and most significant writing. The Library of America series includes more than 300 volumes to date, authoritative editions that average 1,000 pages in length, feature cloth covers, sewn bindings, and ribbon markers, and are printed on premium acid-free paper that will last for centuries.
Library of America, 9780940450394, 1336pp.
Publication Date: January 1, 1987
About the Author
Born in Virginia in 1873 and raised on a Nebraska ranch, Willa Cather is known for her beautifully evocative short stories and novels about the American West. Cather became the managing editor for
McClure's Magazine
in 1906 and lived for forty years in New York City with her companion Edith Lewis. In 1922 Cather won the Pulitzer Prize for
One of Ours
, the story of a Western boy in World War I. In 1933 she was awarded the Prix Femina Americaine "for distinguished literary accomplishments." She died in 1947.
Photo: AKG London
or
Not Currently Available for Direct Purchase