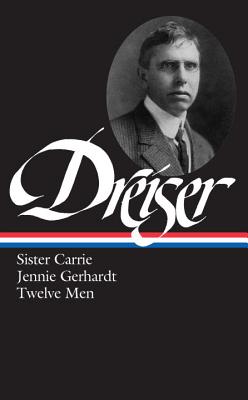 Theodore Dreiser
Sister Carrie, Jennie Gerhardt, Twelve Men (LOA #36)
Hardcover

* Individual store prices may vary.
Description
Theodore Dreiser was arguably the most important figure in the development of fiction in the twentieth century. In this Library of America volume are presented the first two novels and a little-known collection of biographical sketches by the man about whom H. L. Mencken said, "American writing, before and after his time, differed almost as much as biology before and after Darwin."

Dreiser grew up poor in a series of small Indiana towns, in a large German Catholic family dominated by his father's religious fervor. At seventeen he moved to Chicago and eventually became a newspaper reporter there and in St. Louis, Pittsburgh, and New York. Reaction to his first book, Sister Carrie (1900), was not encouraging, and after suffering a nervous breakdown, he went on to a successful career editing magazines. In 1910 he resumed writing, and over the next fifteen years published fourteen volumes of fiction, drama, travel, autobiography, and essays.

"Dreiser's first great novel, Sister Carrie . . . came to housebound and airless America like a great free Western wind, and to our stuffy domesticity gave us the first fresh air since Mark Twain and Whitman," Sinclair Lewis declared in his Nobel Prize acceptance speech in 1930. Carrie Meeber, an eighteen-year-old small-town girl drawn to bustling Chicago, becomes the passionless mistress of a good-humored traveling salesman and then of an infatuated saloon manager who leaves his family and elopes with her to New York. Dreiser's brilliant, panoramic rendering of the two cities' fashionable theaters and restaurants, luxurious hotels and houses of commerce, alongside their unemployment, labor violence, homelessness, degradation, and despair makes this the first urban novel on a grand scale.

In a 1911 review, H. L. Mencken wrote, "Jennie Gerhardt is the best American novel I have ever read, with the lonesome but Himalayan exception of Huckleberry Finn." Beautiful, vital, generous, but morally naïve and unconscious of social conventions, Jennie is a working-class woman who emerges superior to the succession of men who exploit her. There are no villains in this novel; in Dreiser's view, everyone is victimized by the desires that the world excites but can never satisfy.

Dreiser's embracing compassion is felt in Twelve Men (1919), a collection of portraits of men he knew and admired. They range from "My Brother Paul" (Paul Dresser, vaudeville musical comedian and composer of "On the Banks of the Wabash" and "My Gal Sal") to "Culhane, the Solid Man," a sanatorium owner and former wrestler. Without sentiment but with honest emotion and respect for the bleak and unvarnished truth, Dreiser recalls these anomalous individuals and the twists of fate that shaped their lives.

LIBRARY OF AMERICA is an independent nonprofit cultural organization founded in 1979 to preserve our nation's literary heritage by publishing, and keeping permanently in print, America's best and most significant writing. The Library of America series includes more than 300 volumes to date, authoritative editions that average 1,000 pages in length, feature cloth covers, sewn bindings, and ribbon markers, and are printed on premium acid-free paper that will last for centuries.
Library of America, 9780940450417, 1168pp.
Publication Date: June 15, 1987
About the Author
Theodore Dreiser was born in Terre Haute, Indiana, on August 27, 1871. After a poor and difficult childhood, Dreiser broke into newspaper work in Chicago in 1892. A successful career as a magazine writer in New York during the late 1890s was followed by his first novel, Sister Carrie (1900). When this work made little impact, Dreiser published no fiction until Jennie Gerhardt in 1911. There then followed a decade and a half of major work in a number of literary forms, which was capped in 1925 by An American Tragedy, a novel that brought him universal acclaim. Dreiser was increasingly preoccupied by philosophical and political issues during the last two decades of his life. He died in Los Angeles on December 28, 1945.
or
Not Currently Available for Direct Purchase