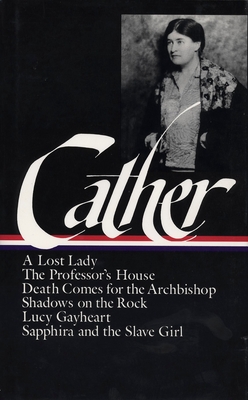 Willa Cather
Later Novels (LOA #49): A Lost Lady / The Professor's House / Death Comes for the Archbishop / Shadows on the Rock / Lucy Gayheart / Sapphira and the Slave Girl (Library of America Willa Cather Edition #2)
Hardcover

* Individual store prices may vary.
Description
This Library of America volume collects six novels by Willa Cather, who is among the most accomplished American writers of the twentieth century. Their formal perfection and expansiveness of feeling are an expression of Cather's dedication both to art and to the open spaces of America.

A Lost Lady (1923) exemplifies her principle of conciseness. It concerns a woman of uncommon loveliness and grace who lends an aura of sophistication to a frontier town, and explores the hidden passions and desires that confine those who idealize her. The recurrent conflict in Cather's work between frontier culture and an encroaching commercialism is nowhere more powerfully articulated.

The Professor's House (1925) encapsulates a story within a story. In the framing narrative, Professor St. Peter, a prizewinning historian of the early Spanish explorers, finds himself disillusioned with family, career, even the house that reflects his success. Within this story is another, of St. Peter's friend Tom Outland, whose brief but adventurous life still shadows those he loved.

Death Comes for the Archbishop (1927) tells the story of the first bishop of New Mexico in a series of tableaux modeled on the medieval lives of the saints. Cather affectionately portrays the refined French Bishop Latour and his more earthy assistant within the harsh and beautiful landscape of the Southwest and among the Mexicans, Indians, and settlers they were sent to serve.

Shadows on the Rock (1931), though its setting and subject are unusual for Cather, expresses her fascination with the "curious endurance of a kind of culture, narrow but definite." It is a re-creation of seventeenth-century Québec as it appears to the apothecary Auclaire and his daughter Cécile: the town's narrow streets, the supply ships on its great river, its merchants, profligates, explorers, missionaries, and towering personalities like Frontenac and Laval, all parts of a colony struggling to survive.

Lucy Gayheart (1935) returns to the themes of Cather's earlier writings, in a more somber key. Talented, spontaneous, and eager to explore the possibilities of life, Lucy leaves her prairie home to pursue a career in music. After a happy interval, her life takes an increasingly disastrous turn.

Sapphira and the Slave Girl (1940) marks a triumphant conclusion to Cather's career as a novelist. Set in Virginia five years before the Civil War, the story shows the effects of slaveholding on Sapphira Colbert, a woman of spirit and common sense who is frighteningly capricious in dealing with people she "owns," and on her husband, who hates slavery even while he conforms to the social order that permits it. When through kindness he refuses to sell a slave, Sapphira's jealous reaction precipitates a sequence of events that registers a conflict of cultural as well as personal values.

LIBRARY OF AMERICA is an independent nonprofit cultural organization founded in 1979 to preserve our nation's literary heritage by publishing, and keeping permanently in print, America's best and most significant writing. The Library of America series includes more than 300 volumes to date, authoritative editions that average 1,000 pages in length, feature cloth covers, sewn bindings, and ribbon markers, and are printed on premium acid-free paper that will last for centuries.
Library of America, 9780940450523, 976pp.
Publication Date: July 15, 1990
About the Author
Born in Virginia in 1873 and raised on a Nebraska ranch, Willa Cather is known for her beautifully evocative short stories and novels about the American West. Cather became the managing editor for
McClure's Magazine
in 1906 and lived for forty years in New York City with her companion Edith Lewis. In 1922 Cather won the Pulitzer Prize for
One of Ours
, the story of a Western boy in World War I. In 1933 she was awarded the Prix Femina Americaine "for distinguished literary accomplishments." She died in 1947.
Photo: AKG London