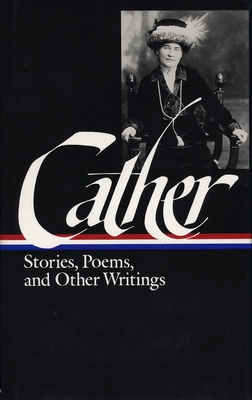 Willa Cather
Stories, Poems, & Other Writings (LOA #57): Alexander's Bridge / My Mortal Enemy / Youth and the Bright Medusa / Obscure Destinies / The Old Beauty and Others / other writings (Library of America Willa Cather Edition #3)
Hardcover

* Individual store prices may vary.
Description
Willa Cather, one of the great American novelists of the 20th century, also wrote some of America's best short fiction. From her haunting first story, "Peter," the tale of a Bohemian immigrant who brought his violin to the raw western frontier, to her posthumously published "The Best Years," the stories included here span the fifty years of Cather's writing life. In these tales of pioneers and farmers, artists and youthful lovers, immigrants and their striving children, she creates both a new, never-surpassed portrait of the land and people of the American West and a lively and contemporary picture of life in eastern cities.

Many of her finest stories, among them "Coming, Aphrodite!"—a New York tale of passion and ambition—and the subtly constructed "Old Mrs. Harris," are unfamiliar to most readers. Her earliest, uncollected stories are steeped in memories of prairie childhood.  Her earliest, uncollected stories are steeped in memories of prairie childhood. "On the Divide," "The Enchanted Bluff," "Eric Hermannson's Soul," and others contain many of the themes of her later work, evoking the loneliness and hardship as well as the beauty and challenge of pioneer life "on the bright edges of the world."

In the stories of Youth and the Bright Medusa (1920), which includes "The Sculptor's Funeral," "The Diamond Mine," and the well-known "Paul's Case," artists and other sensitive spirits struggle to preserve their integrity in a society ruled by convention and routine. Obscure Destinies (1932) presents three moving tales set in the western landscapes Cather loved. Her characters are endowed with some of the meditative solidity found in the portraits of Rembrandt, like the old farmer in "Neighbour Rosicky" who has only "one tap root that goes down deep." The Old Beauty and Others (1948), published shortly after Cather's death, includes "The Best Years," a Nebraska story that has a mournful charm unlike anything else she wrote.

Cather's distinctive, lyrical prose can be found not only in her fiction but also in her "occasional" pieces—an appreciation of Sarah Orne Jewett, luminous reminiscences of Mrs. James Fields and her house in Boston, an account of meeting Flaubert's niece in Aix-les-Bains. Her critical essays, such as "The Novel Démeublé" and "On the Art of Fiction," which appear in Not Under Forty (1936), and her reviews of authors from Mark Twain to Frank Norris, as well as her appraisals of her own work, cast a discerning light on the creative role of the artist.

This volume also contains Cather's first novella, Alexander's Bridge (1912), My Mortal Enemy (1926), a powerful novella in which a strong-willed woman brings about her own ruin, and Cather's only book of poetry, April Twilights and Other Poems (1933).

LIBRARY OF AMERICA is an independent nonprofit cultural organization founded in 1979 to preserve our nation's literary heritage by publishing, and keeping permanently in print, America's best and most significant writing. The Library of America series includes more than 300 volumes to date, authoritative editions that average 1,000 pages in length, feature cloth covers, sewn bindings, and ribbon markers, and are printed on premium acid-free paper that will last for centuries.
Library of America, 9780940450714, 1039pp.
Publication Date: March 1, 1992
About the Author
Born in Virginia in 1873 and raised on a Nebraska ranch, Willa Cather is known for her beautifully evocative short stories and novels about the American West. Cather became the managing editor for
McClure's Magazine
in 1906 and lived for forty years in New York City with her companion Edith Lewis. In 1922 Cather won the Pulitzer Prize for
One of Ours
, the story of a Western boy in World War I. In 1933 she was awarded the Prix Femina Americaine "for distinguished literary accomplishments." She died in 1947.
Photo: AKG London
or
Not Currently Available for Direct Purchase