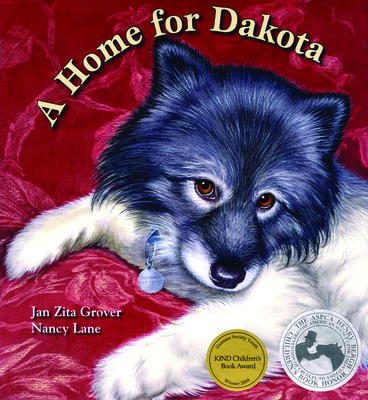 A Home for Dakota (Sit! Stay! Read!)
Hardcover

* Individual store prices may vary.
Other Editions of This Title:
Paperback (9/6/2016)
Description
Winner of The Humane Society of the US Youth KIND Award, best children's picture book of the year

Honor Book, ASPCA Henry Bergh Award, Fiction, Companion Animals

Dog No. 241 lives in a crate in a cold, dark barn that is stacked with hundreds of other caged dogs in a puppy mill breeding operation. She has never known human companionship, exercise, or decent care. One night, rescuers arrive and take her and the other dogs away to lead new and happier lives. Soon, despite her fears, she finds herself in a warm, secure foster home, being bathed and groomed and loved by a young woman named Emma. At first, she is too frightened to respond; all she wants is to return to the familiar dark.
Eventually renamed Dakota, she learns to love and trust Emma, and her foster home becomes a friendly haven. But then a new challenge arrives in the person of a young girl, Sweetie, who is recovering from a misfortune as deep as Dakota's own. Sweetie and her parents come to look at Dakota as a possible pet. Initially, Sweetie rejects hairless little Dakota, but later she returns to offer Dakota a home, and Emma recommends her for adoption. With Emma's reassurances, Dakota goes to her forever home to become Sweetie's true partner in recovery.
Jan Zita Grover, author of North Enough: AIDS and Other Clear-Cuts (1997) and Northern Waters (1999), both from Graywolf Press, has worked in canine rescue since 1973, specifically with discarded puppy mill breed dogs. Dakota is modeled on one of Jan's own rescued dogs, Pixie.
Gryphon Press - The Gryphon Press, 9780940719057, 24pp.
Publication Date: April 1, 2008
About the Author
Jan Zita Grover has worked in canine rescue since 1973, especially with discarded puppymill breed dogs. One of these dogs, Pixie, is the model for artist Nancy Lane's illustrations of Dakota. Jan is also the author of North Enough: AIDS and Other Clear-cuts (1997) and Northern Waters (1999), both published by Graywolf Press Nancy Lane has been a freelance illustrator for the last 20 years. Picture books include: Buster, Where Are You? (1998), Rico's Hawk (1999) Beyond Turkey (2005), The Everyday Witch (Series), 2002-2006, and others. Clients have included: Highlights Magazine, Scholastic, Inc., Barron's, Harcourt School Publishers, and Scott Foresman, among many others.
or
Not Currently Available for Direct Purchase