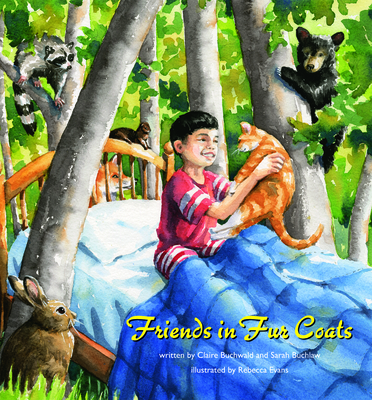 Friends in Fur Coats
Hardcover

* Individual store prices may vary.
Description
Surrounded by his cat and furry toy animals, Noah wonders aloud, Why do you get to have fur coats, but I don't? In his dream that night, Noah learns how vital each animal's fur coat is to its survival and happiness. Each fur-bearing animal is shown in its appropriate habitat.
Through light-hearted, engaging, and informative interactions, Friends in Fur Coats tackles the difficult topic of why using animal fur is inherently inhumane. Children learn in vivid detail what makes each animal's fur unique, as well as other facts special to each animal.
The vibrant illustrations and language illuminate and stress the beauty and vitality of real fur-bearing animals while making a connection to children's beloved plush toys as stand-ins for animals that need their protection and care.
Claire Buchwald is the author of four children's picture books, including the Gryphon titles Max Talks to Me and Are You Ready for Me.
Sarah Buchlaw is making her debut as an author.
Rebecca Evans has illustrated nine previous children's books, including Someday I'll Fly.

Gryphon Press, 9780940719293, 24pp.
Publication Date: April 19, 2016
About the Author
Rebecca Evans, the illustrator of nine previous children's picture book's, is an illustrator and author living in Maryland. She received a Bachelor of Arts degree in Visual Art from Messiah College with a concentration in Drawing and Illustration. She worked for nine years as an artist and designer before returning to her first love: children's book illustration and writing. Her experience includes illustrating and authoring children's books, teaching art at the local Art Center, and publishing artwork with magazines and multiple publishing houses. She enjoys spending time with her husband and three young children, and working from her home studio. You can view her work at www.rebeccaevans.net Claire Buchwald, the author of four children's picture books, including Max Talks to Me (The Gryphon Press, 2007) and Are You Ready for Me (The Gryphon Press, 2009), has a Ph.D. in communication and works to promote and study the power of imagination in people's lives. Find out more about her work at http: //imaginativeparenting.com/ and http: //clairebuchwald.com/. Claire is also the Director of FOCUS Interactive Research and a Program Planner for GTS Educational Events. Sarah Buchlaw will graduate from The Saint Paul Conservatory for Performing Artists in 2016. Sarah has performed in theater in the Twin Cities, is a committed writer who is passionate about using her arts background to make the world a more just place. Claire, Sarah, and the rest of their family live with a rescued dog and two rescued cats in Bloomington, Minnesota.
or
Not Currently Available for Direct Purchase