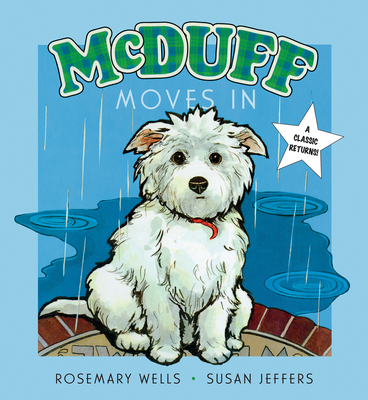 McDuff Moves in
Hardcover

* Individual store prices may vary.
Description
"A homeless unloved pup becomes one lucky dog in this tender picture book. . ."
--starred Publishers Weekly Review
The Gryphon Press is delighted to bring this classic children's picture back into print for a new generation of children.
McDuff Moves In has been loved for its heartwarming and lively story and its magical recreation of a simpler era. Readers have commented that they loved reading McDuff's story to their children, and, in due course, to their grandchildren, reading the book over and over, until, as one reader wrote, the "original copy was worn to shreds."
"This collaboration by Wells and Jeffers is as sweet, substantial, and comforting as that bowl of rice pudding and will suit the many children who like stories with simple words, clear story lines, and happily-ever-after endings. "
- Booklist
No one wanted the nameless little dog wandering the streets looking unsuccessfully for food and shelter until kindhearted Fred and Lucy, a young couple, take him inside. After they feed him rice pudding and bathe him, they realize that they cannot bear to return him to the pound. Newly adopted, McDuff-named that night for their favorite shortbread biscuit-is last seen happily asleep on his back on a pillow next to Fred and Lucy's bed.
Wells knows just the right words to describe McDuff's emotions in ways that little readers will identify with and understand. She describes his joy in being accepted with these words: ''No one had ever asked him to come in. Everyone had always told him to go away.''
Jeffers's illustrations brilliantly capture a bygone art deco America in Lucy and Fred's cozy home, a virtual-reality nostalgia unfaded. Dog lovers everywhere will recognize the very specific details that bring McDuff to life, from the familiar lift of a paw in the rain to the frightened eyes peeking out over the car dashboard.
Gryphon Press, 9780940719422, 25pp.
Publication Date: October 15, 2019
About the Author
Rosemary Wells was born in New York City and raised on the New Jersey shore. She grew up in a home that was always filled with books, dogs, classical music, and other things her parents held in great esteem. Her career as an author and illustrator spans more than 40 years and 120 books. She has won numerous awards, and she has given readers such unforgettable characters as McDuff, Max and Ruby, Noisy Nora, and Yoko. She has also given Mother Goose new life in two definitive editions, and created an unforgettable world for grown-ups and kids alike in Voyage to the Bunny Planet. Susan Jeffers is a New York Times bestselling artist who has won the ABBY Award from the American Booksellers Association and a Caldecott Honor from the American Library Association. Her work has been exhibited in the Metropolitan Museum of Art, the Brooklyn Museum, and the Norman Rockwell Museum. Her books have sold millions of copies and have been published around the world. She lives in Westchester County, New York. Visit her online at www.susanjeffersart.com.