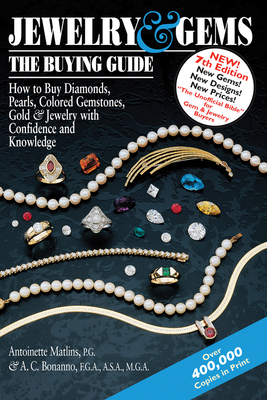 Jewelry & Gems the Buying Guide (Paperback)
How to Buy Diamonds, Pearls, Colored Gemstones, Gold & Jewelry with Confidence and Knowledge
Gemstone Press, 9780943763712, 306pp.
Publication Date: August 1, 2009
* Individual store prices may vary.
Description
Over 400,000 Copies in Print
Know What You Want, Know What You're Buying,
Learn the Secrets to Get the Most for Your Money
Easy to Read - Easy to Understand
Practical - Complete
Instant Answers ... to All Your Questions
Completely Updated & Expanded 7th Edition
Purchasing gems and jewelry can be a magical experience, filled with excitement and anticipation. But lack of information, error, or misrepresentation can make the thrill of buying a gem or piece of jewelry confusing, intimidating, overwhelming, and costly.
To help you avoid the pitfalls and keep the magic, two internationally respected experts on buying gems and jewelry put their inside knowledge to work for you in this easy-to-read, easy-to-use guide. It is filled with practical advice and is designed to make it easy for you to have all the information you need to buy gems and jewelry with confidence.
Recommended by consumer and jewelry trade reviewers around the world, it is already in use in over 100 countries and has been translated into Spanish, Arabic, Greek, Hungarian, Russian and Japanese. Over 400,000 copies are now in print and this revised, updated, expanded edition covers even more: buying and selling on the internet, dazzling new diamond cuts, recently discovered gems ... and new treatments and trickery to look out for. There are fascinating mythical and magical tidbits, and practical tips that could only come from an insider.
In simple, straightforward terms you'll learn about the four Cs and how to juggle them to get what you want, at the price you want to pay; what to look for, and look out for; all about gold and platinum, jewelry design, and some of the country's leading designers. You'll learn what questions to ask and what to get in writing, and even how to select the jeweler, appraiser, and insurer.
The authors leave no stone unturned to give you everything you need to know--whether you are a novice or a connoisseur. With Jewelry & Gems: The Buying Guide, you'll find the experience can be a joy, and the gems and jewelry you select a source of lasting pleasure
or
Not Currently Available for Direct Purchase