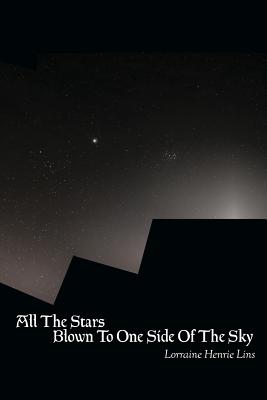 All the Stars Blown to One Side of the Sky (Paperback)
Virtual Artists Collective, 9780944048573, 96pp.
Publication Date: May 28, 2014
* Individual store prices may vary.
Description
"I nearly lost balance," Lorraine Henrie Lins writes, "looking that straight up / to the smudged glow / where the moon would be / and then not be and then be again." It may seem odd to praise a poet for losing balance, but isn't that the poet's job: to help us risk a little unsteadiness on our feet? Faced with this world of unsettling beauty and dizzying loss, how can we not feel a little vertigo? In All the Stars Blown to One Side of the Sky Lins offers us a tutorial in how to rejoice and grieve, how to let ourselves be intoxicated by the universe in which we live and how to survive its challenges. In lovingly crafted poems she shows us how it's possible to lose control and keep it at the same time. That's why I turn to poetry; it offers a safe place to take risks. In this astonishing book Lorraine Henrie Lins teaches us by example; how to come to terms with the confusions of childhood and the challenges of experience; how to live as part of the human family and as a citizen of this planet where "the sun is an old sun / a beaten one that feels its own mortality." In "The Care and Treating of Books: A Primer" Lins writes that to read a book "you need a pencil to drag below / the really good words, leave a leaded trail / to find your way back after you lose / yourself in the thicket." My pencil and I couldn't leave a single poem alone, all those good words I wanted to come back to, all those poems that helped me to lose my direction and balance - as the best poems do - and find my way again. This is a writer you can trust, a book you can take with you on every journey, confident that its "good words" will bring you home safely, braver and smarter and ready for the next adventure. -Chris Bursk, author of The Improbable Swervings of Atoms.