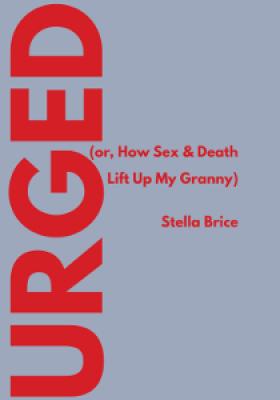 Urged (Or, How Sex & Death Lift Up My Granny) (Paperback)
Purple Flag, 9780944048672, 132pp.
Publication Date: October 19, 2015
Description
Urged, or How Sex & Death Lift Up My Granny is a book of myths & fairytales, twisted nursery rhymes, monsters & monster mothers & the initiatory stories of grownup life. "Reading Stella Brice's work is like diving into a sea wave and coming up in a dark cave. A cave echoing with voices from the four winds telling stories that are unfamiliar, ragged, horrible, beautiful, and true. And it's somehow also very bright in this space apart. The light hurts and the pain is delicious. The surfaces of things are majestic, but underneath is something pulsing with life. A quiet night becomes erotic, slimy, and hieratic. You're changed somehow. You're a part of some bardic tradition that stumbled into the rusted clockworks of 'all this, ' and emerged in a trance. You speak a thousand languages simultaneously, and you now know what they all mean. It's a 'ravenous abundance.'" -Carolyn Adams, author of The Things You've Left Behind.
Advertisement