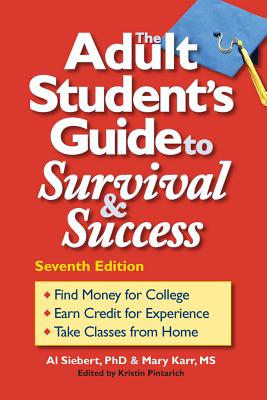 The Adult Student's Guide to Survival & Success (Paperback)
Practical Psychology Press, 9780944227459, 168pp.
Publication Date: July 1, 2016
* Individual store prices may vary.
Description
Finalist:
2016 Best Book Awards, College Guides category

Whether enrolling in college for the first time or returning after an extended absence, this one-stop reference provides adult students with a wealth of practical guidance once they hit campus—either brick and mortar or online. This thorough guide explores not only how to succeed academically while balancing family, work, and other important responsibilities, but also addresses how students can learn to confront their fears, increase their self-confidence and resiliency, and create learning support groups. The handbook contains essential information on financing education through loans, grants, and scholarships, as well as practical tips for managing time, preparing for tests, taking effective notes, and using internet resources. Now in its seventh edition, The Adult Student's Guide to Survival & Success has both stood the test of time and evolved with it.
About the Author
Al Siebert received his MA and PhD in psychology from the University of Michigan. He authored The Resiliency Advantage and The Survivor Personality. Articles quoting his resiliency research and his quiz "How Resilient Are You?" have been featured in many national publications. He co-authored Student Success. More information about Al's resiliency work can be found at ResiliencyCenter.com. Mary Karr received a BS in Speech Communication and Psychology, and her MS in Speech Communication from Portland State University. Currently, Mary evaluates essays and awards prior learning credit for Marylhurst University. Mary co-wrote Teaching College Success to Adult Learners, the instructor's manual for ASG. Kristin Pintarich worked as Dr. Al Siebert's assistant and personal editor for nearly twenty years prior to his passing in 2009.  Previously edited works include the 2010 re-issue of The Survivor Personality and The Resiliency Advantage.
Praise For The Adult Student's Guide to Survival & Success…
"A good guide to 'learning how to learn' . . . any student who takes the time to read and thoroughly digest the material will become a better student and have less stress." —Albert Sheppard, PhD, executive director, College Financial Aids Foundation
"An extremely insightful, personable, informative, common-sense, and inspirational manual for those students who work, have a family, and want more from life." —Fran Polk, Alternative Learning Center, Portland Community College
"This is a book that had to be written." —Grace B. Martin, PhD, head of psychology, director of general studies, Armstrong State College
"[This book] will help me do my job better. The book is timely, filled with insight, well-organized and fun to read!" —Diane J. Willis, coordinator, undergraduate advising and student services, Washington University
"I teach adult basic education and this book is by far the best I've seen for our non-traditional students and the barriers to education they face." —Traci Birdsell, Adult Basic Education, Lewis-Clark State College, Idaho