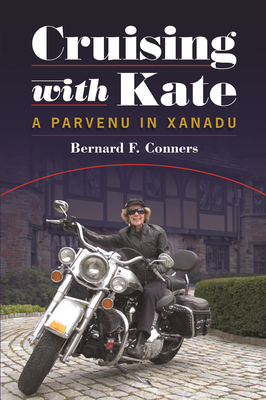 Cruising with Kate
A Parvenu in Xanadu
Hardcover

* Individual store prices may vary.
Description
Buckle up and enjoy a rollicking ride with Bernard and "Cool Kate," his unflappable wife, on a memorable trip behind the scenes at diverse places such as corporate boardrooms, The Paris Review, and the FBI, with jaunts to Hollywood and the Hamptons and points in between.Watch for the bold-faced names as you rove through Manhattan, from the staidand proper 21 Club to dining with the stars at Elaine's. Marvel at the challenges confronting Bernard as publisher of The Paris Review, while mixing with New York's literati, including Norman Mailer, Truman Capote, Gore Vidal, and George Plimpton. Shiver with Bernard's "Butterflies"as he struggles to balance his day job surveillingtophoods under the watchful eye of J.Edgar Hoover with his nighttime frolicsasan arriviste among Manhattan's haute monde. Hang on as Bernardauthors and publishes best-selling books while negotiating with Hollywood auteurs and producing award-winning films.Feel his uncertainty during the dreaded author tours as he appears on the TodayShow and the BBC. Follow the insecure Bernard's nouveau riche climb up New York's social ladder from a tiny two-room penthouse to the board of a Fifth Avenue residence and finally to a lavish upstate Xanadu. Be forewarned, however, this trip is not for the faint of heart. Those offended by Truman Capote-esque revelations about the highand mighty, by tawdry gossip, or by jolting faux pas may want to avoid the trip For the daring, however those ready for a whimsical fling fasten your seatbelt and prepare for a rag-to-riches literary joyride with A Parvenu in Xanadu.
British American Publishing, 9780945167570, 368pp.
Publication Date: March 7, 2015
About the Author
Bernard F. Conners, former publisher of The Paris Review, has hada distinguished career in government, business, publishing, and film. He is the best-selling author of Dancehall, Tailspin, The Hampton Sisters, and Don't Embarrass the Bureau.Mr. Conners lives in Loudonville, New York."
or
Not Currently Available for Direct Purchase