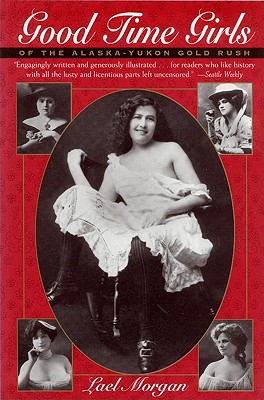 Good Time Girls of the Alaska-Yukon Gold Rush (Paperback)
Secret History of the Far North
Epicenter Press, 9780945397762, 352pp.
Publication Date: August 1, 1999
* Individual store prices may vary.
Description
In the boomtowns of the Alaska-Yukon stampedes, where gold dust was common currency, the rarest commodity was an attractive woman, and her company could be costly. Author Lael Morgan takes you into the heart of the gold rush demimonde, that "half world" of prostitutes, dance hall girls, and entertainers who lived on the outskirts of polite society. Meet "Dutch Kate" Wilson, who pioneered many areas long before the "respectable" women who received credit for getting there first ... ruthless heartbreakers Cad Wilson and Rose Blumkin ... "French" Marie Larose, who auctioned herself off as a wife to the highest bidder, Georgia Lee, who invested her earnings wisely and became one of the richest women in the North, and Edith Neile, called "the Oregon Mare," famous for both her outlandish behavior and her softhearted generosity.
About the Author
Lael Morgan teaches web-based writing and journalism classes for the University of Texas from her home in Saco, Maine. A former associate professor at the University of Alaska Fairbanks, where she taught journalism through most of the 1990s, Morgan has been researching the history of the Far North for more than thirty years. She was named Alaska's Historian of the Year in 1988 for her research on this book. Her work has been published in the "Los Angeles Times "and "National Geographic," and she is the author of numerous other nonfiction titles, including "Art and Eskimo Power: The Life and Times of Howard Rock "and "Eskimo Star: From Tundra to Tinseltown: The Ray Mala Story."
Praise For Good Time Girls of the Alaska-Yukon Gold Rush: Secret History of the Far North…
"...Fascinating reading...the abundant, luscious photographs of these amazing women, the 'cribs' from which they worked, their customers, their lovers, and the frontier towns they helped to pioneer are themselves worth the price of the book." --Linda Jaivin, Los Angeles Times

"...Fresh, gutsy...," led a list of 10 "under-hyped" exceptional books of 1998. --Ted Rose, Brill's Content

"If you come to Morgan's book with fictional stereotypes, you won't keep them long when you read about the real women.  True tales about Mae Field, Corrine B. Gray, Edith Neile, and the women who first braved the trails are grittier than any fictional account."  --Nancy Brown, (Kenai, Alaska) Peninsula Clarion

"Just check your moral judgments at the door and settle in for an evening of wild reading." --Susan English, (Spokane, WA) Spokesman-Review

"Sympathetic and poignant." -- Palo Alto (CA) Daily News

"Loaded with facts and a sense of place, it's a provocative look at a sensational time and spirit." -- San Francisco Examiner

"This works unique perspective and splendid period photos make it a recommended purchase..." --Library Journal

Lael Morgan named Alaska Historian of the Year (1998) for her work on Good Time Girls. --Alaska Historical Society