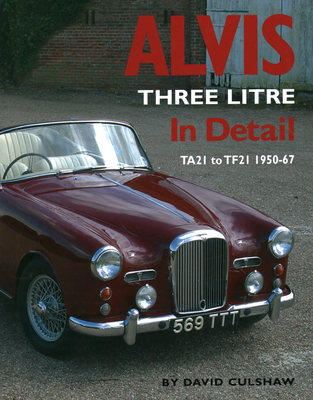 Alvis Three Litre In Detail (Hardcover)
TA21 to TF21 1950-67
Herridge & Sons Ltd., 9780954106324, 176pp.
Publication Date: February 28, 2004
* Individual store prices may vary.
Description
From its launch in 1950 to its demise in 1967, the Alvis Three Litre enjoyed a deserved reputation for effortless performance, exceptional surefootedness and stability, a high degree of driver friendliness, and irreproachable quality of construction. It was considered a rather exclusive car, coming as it did from a maker whose products always had a certain individuality. In addition, there remained through successive models something reassuringly traditional about its styling in both saloon and drophead forms; while never outdated, it displayed a timeless, discreet dignity unmoved by the more frivolous vagaries of fashion. All the while, in the background but ready to serve when called upon, was the Alvis works, whose concern for its cars and their owners was exemplary.
Throughout production, the Three Litre was based on the same chassis and was powered by the same engine. This was a handsome and efficient short-stroke six-cylinder, conceived in order to provide the driver with ample power over a very wide rev range. Starting with an output of 83bhp in the early TA21, this robust unit was progressively developed to supply 150bhp in its final TF21 form while retaining the turbine smoothness, reliability and lack of temperament that it had become celebrated for. It was perfectly matched to its chassis and running gear, and those who have driven a Three Litre at speed will find the dynamic qualities of the contemporary rivals from Bentley or Jaguar rather less likeable.
This book opens with an exposition of the background that led to the companys introduction of the Three Litre in 1950. Then comes a detailed technical analysis of the TA21, covering all aspects of the chassis, running gear, engine and transmission. This sets the scene for the chapters which follow, on the short-lived TB21 sports tourer, the TC21 and the uprated TC21/100, the Graber-inspired TC108G, the outstandingly handsome TD21 Series I and II, the TE21 and the TF21.
Each of these receives comprehensive treatment, including differences from previous models, production changes and full chassis number number listings, along with notes on famous owners and screen appearances. The author provides extensive information on the coachbuilders who supplied Three Litre bodies, including Mulliners, Tickford, Graber, Willowbrook and Park Ward, and there are chapters devoted to the Alvis-powered Healey G Series sports car, the aborted Issigonis-designed Alvis TA350, and the ownership and use of Alvis Three Litre models today.
Five outstanding examples of the cars have been specially photographed for this book and are featured in some 70 colour shots. There are also more than 140 black-and-white illustrations drawn from archives as well as from Alvis sales and publicity material. Devoted exclusively to the Three Litre, this book offers an in-depth examination of these excellent cars to provide a store of information for the many owners who care passionately about them, and serve as a tribute to the men who made them.
About the Author
Born in Wigan in 1939, David Culshaw was educated initially at Wigan Grammar School. His teachers suggested he send his postwar car production notes to a publisher, and so, when only 19 years of age, his manuscript was taken up by Temple Press Ltd, publishers of The Motor. Practical automotive skills were honed by an uncle who had worked at Leyland Motors and Daimler. Education continued at Loughborough University, after which a commission arose from Walter Parrish International Ltd for a definitive history of the British Motor Industry from 1895 to date. Written with Peter Horrobin, the result was published in 1974 by McMillan in the UK and Morrow in the USA. It was reissued by Veloce in 1997, and remains a standard work of reference. David's obsession with the Alvis marque from the age of 15 led to the publication of a series of 16 booklets on the different models, and later, a definitive work on the postwar Three-Litre ranges. For many years he has been granted exclusive access to Alvis Company Records, which has contributed in no small way to the accuracy of the tables and the veracity of the text in his latest book, Alvis Society – A Century of Drivers.
or
Not Currently Available for Direct Purchase