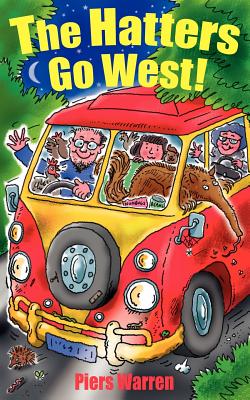 The Hatters Go West! (Paperback)
Wildeye, 9780954189983, 96pp.
Publication Date: May 8, 2006
* Individual store prices may vary.
Description
The Hatters Go West Maddie's mum is missing - in fact she vanished a year ago, gathering mushrooms in the nearby woods. But when Maddie's little sister disappears as well, in search of Mum, there's no time to waste: Lupin (or Loopy for short ) must be found before she gets into trouble. But to make the situation even worse, the sisters have a dad who - though quite loveable - is completely round the bend Never quite sure what her crazy dad will do next, Maddie and her family set off on an amazing cross-country journey in their trusty old campervan, facing one adventure after another on the trail of some peculiar clues. Accompanied by an ever-growing menagerie of animals, including Mr Nose the Giant Anteater, Maddie comes across a bizarre cast of characters. But will she ever find Mum? About the Author Piers Warren is an eccentric adventurer and author. He has walked the African plains with Maasai Warriors, tracked tigers in India on elephant-back, explored the Amazon rainforest, swum with sharks, trekked across Tanzanian deserts on a camel and filmed cheetahs hunting in Kenya. He writes books on a variety of subjects from his greenhouse in Norfolk where he lives with his teenage daughter, a number of carnivorous plants, and a Komodo Dragon called Perry Komo. The Hatters Go West is his first children's novel. More books are in the pipeline - including further adventures of The Hatters.