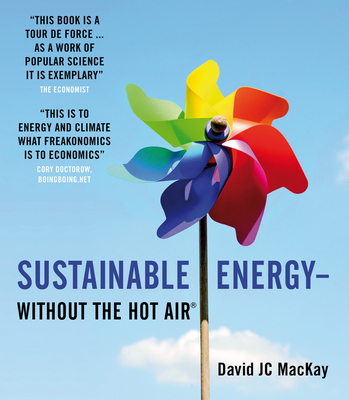 Sustainable Energy - Without the Hot Air
Paperback

* Individual store prices may vary.
Description
Addressing the sustainable energy crisis in an objective manner, this enlightening book analyzes the relevant numbers and organizes a plan for change on both a personal level and an international scale--for Europe, the United States, and the world. In case study format, this informative reference answers questions surrounding nuclear energy, the potential of sustainable fossil fuels, and the possibilities of sharing renewable power with foreign countries.
While underlining the difficulty of minimizing consumption, the tone remains positive as it debunks misinformation and clearly explains the calculations of expenditure per person to encourage people to make individual changes that will benefit the world at large.
If you've thrown your hands up in despair thinking no solution is possible, then read this book - it's an honest, realistic, and humorous discussion of all our energy options.
Praise For Sustainable Energy - Without the Hot Air…
"If someone wants an overall view of how energy gets used, where it comes from, and the challenges in switching to new sources, this is the book to read." —Bill Gates, chairman, Microsoft
"I would choose Sustainable Energy as a text over its competitors because MacKay has moved the energy discussion in the direction where energy alternatives can be considered quantitatively." —American Journal of Physics
"This is a must-have book for anyone who is seriously interested in energy policy." —Scott Kirwin, therazor.org
"The main text of his book is readable (and witty) and its technical appendices bristle with equations. If the planet and its people are the patient, MacKay's book is the the lab results, temperature chart and electrocardiogram." —
The New York Review of Books
(April 26, 2012)
"This is a brilliant book that is both a racy read and hugely informative . . . It shows . . . how cars might become far more efficient but why planes cannot." —David Newbery, director, Electricity Policy Research Group, University of Cambridge
"Here are the numbers in a form easy to digest about energy use and availability. Fantastic achievement." —Professor Volker Heine, Fellow of the Royal Society
"May be the best technical book about the environment that I've ever read. This is to energy and climate what Freakonomics is to economics." —boingboing.net
"A tour de force . . . As a work of popular science it is exemplary . . . For anyone seeking a deeper understanding of the real problems involved [it] is the place to start." —economist.com
"There are so many books about sustainable energy and alternative energy on today's market that one might wonder about the need for yet another; but
Sustainable Energy - Without the Hot Air
offers something different - and that's a notable achievement in a genre overloaded with too many revamps using the same approach." —D. Donovan, 
Midwest Book Review, California Bookwatch
UIT Cambridge Ltd., 9780954452933, 384pp.
Publication Date: January 1, 2009
About the Author
Breakthrough Institute is proud to announce David MacKay, Regius Professor of Engineering at Cambridge University and former Chief Scientific Advisor to the UK's Department of Energy and Climate Change, as the 2016 Breakthrough Paradigm Award winner. 

David MacKay is a professor in the department of physics at Cambridge University, a member of the World Economic Forum's Global Agenda Council on Climate Change, and a regular lecturer on sustainable energy.