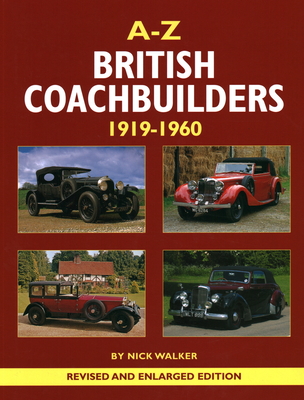 A-Z British Coachbuilders (Hardcover)
1919-1960
Herridge & Sons Ltd., 9780954998165, 224pp.
Publication Date: June 15, 2007
* Individual store prices may vary.
Description
Coachbuilding on motor car chassis evolved from carriage building, and the development of the coachbuilt body closely followed that of the motor car. From the beginning of the 20th century until the arrival in the late 1930s of unitary construction for motor cars, in which the separate chassis and body gave way to a combined body/chassis structure, coachbuilding flourished in Britain, with hundreds of firms exhibiting their latest designs at motor shows year after year. But by the outbreak of World War 2, the industry was already in terminal decline. Many coachbuilders, like Barker or Hooper built one-off bodies for the `carriage trade', the noble and wealthy who sought the distinction of choosing a style of body and interior to suit their personal tastes and requirements, and such bodies were naturally to be found on the most expensive makes of motor car, like the Rolls-Royce, Bentley and exotic marques from the Continent. Other coachbuilders aimed to produce inexpensive bodies in series for volume manufacturers who wanted, for example, to be able to offer a convertible version of a certain model but did not wish to have to make the bodies themselves. Yet others established a special relationship with a single manufacturer, like Charlesworth with Alvis, in order to procure a steady flow of work. This book is a comprehensive study of coachbuilding, and coachbuilders, in Britain. The author sets the scene by describing advances in fashions and techniques of coachbuilding in separate chapters on the 1920s, 1930s and the postwar period. He then gives a unique A-Z coverage of more than 300 British coachbuilders. In addition, there is a chapter offering useful advice on assessing the condition, and likely repair needs, of a coachbuilt body today. A glossary of coachbuilding terms and what they mean completes the picture. More than 400 photographs, 50 of them in color, have been painstakingly hunted down to illustrate coachbuilding fashions and methods as well as the work of the coachbuilders described in the A-Z section. This new enlarged and revised edition features brand new entries.
About the Author
Nick Walker studied engineering at Cambridge, but then pursued a career in business management and marketing. He is Honorary Librarian of the Vintage Sports-Car Club, Honorary Archivist of SAE-UK (formerly IBCAM), and a member of the Society of Automotive Historians. His special allegiance is to the Alvis marque, and he has owned examples bodied by both Vanden Plas and Cross & Ellis as well as serving as Chairman of the Alvis Owner Club. Now retired, he has in recent years written a number of books and articles on automotive history.
or
Not Currently Available for Direct Purchase