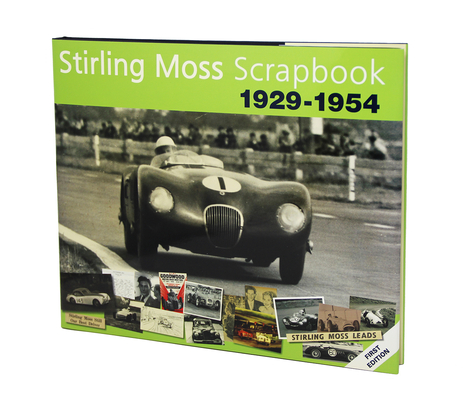 Stirling Moss Scrapbook 1929-54
Hardcover

* Individual store prices may vary.
Description
The Stirling Moss Scrapbook 1929-1954 tells the story of the formative years of one of the greatest racing drivers of all time.

Moss's meteoric rise through the junior ranks with the little F3 500s, the big break with a borrowed XK120, the highs and lows with HWM when he took on the best in their more powerful Ferraris and shook the big names, the great drives and successes with Jaguar in the TT and at Le Mans, missing a Monte Carlo Rally win at the first attempt by mere seconds, the frustrating years when he put patriotism first and soldiered on with inadequate machinery and, finally, 1954 - the year when everything fell into place on the international stage.
Porter Press, 9780955006883, 162pp.
Publication Date: June 1, 2015
About the Author
Sir Stirling Moss is a national treasure. Arguably the world's greatest all-round racing driver, he was a hero to several generations of schoolboys and enthusiasts throughout the world. Moss is now so iconic his name is often used as a metaphor for "racing driver" - the name alone invokes mental images of speed, bravado, the jet-set lifestyle and a bevy of beauties with whom to live it. By 1961 his career was at its peak; absolutely at the top of his game, a charismatic sportsman famous across the world.
Philip Porter has written about 30 motoring books, twice winning the Montagu Trophy for best motoring book of the year. A lifelong motor racing enthusiast, that enthusiasm was largely fired by Stirling Moss. Like so many young boys in the fifties, he was Philip's absolute hero. As a consequence, Philip began successfully competing in motor sport while still at school. He began acquiring classic sports cars long before it became a boom and owns 9600 HP, the oldest E-type in existence. This led to some motoring journalism among his busy business career. He later satisfied his competitive spirit with flying hot air balloons and airships, winning the silver medal at the 1991 European Airship Championships. In 1992 he became the first person ever to fly an airship in Africa. He is Chairman of the Sherlock Holmes Society and an active member of the Jerome K. Jerome Society. In 1997 he and his wife Julie founded the International Jaguar XK Club and in 2004 they started the Jaguar E-type Club. Philip edits both monthly magazines and Sir Stirling is Patron of the XK Club. Philip and Julie live in a Tudor farmhouse in Worcestershire and have their offices in an adjoining thatched barn.
or
Not Currently Available for Direct Purchase