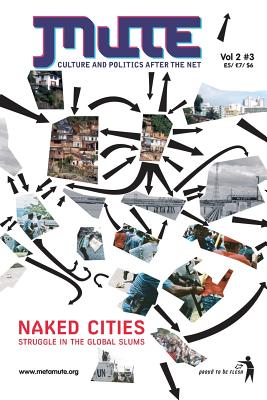 Naked Cities - Struggle in the Global Slums (Paperback)
Mute, 9780955066436, 144pp.
Publication Date: September 11, 2006
* Individual store prices may vary.
Description
According to UN research data, by 2030 half of the world's population will be living in slums. Meanwhile, in Durban, residents of Forman and Kennedy Road settlements risk arrest and police violence to protest forced eviction and demand clean drinking water and sanitation. The statistics are not supposed to talk back. This issue of Mute, largely sparked by Mike Davis' claim that in the megaslums Muhammad and the Holy Ghost have superceded Marx, considers another view of the world's burgeoning 'naked cities'. Where the populace are refugees without rights or basic amenities, are new forms of political action emerging? Texts by: Amita Baviskar, Iain Boal, Anna Dezeuze, Michael Edwards, Melanie Gilligan, Anthony Iles, Demetra Kotouza, Penny Koutrolikou, Josaphat Robert Large, Felix Morisseau-Leroy, Kevin Pina, Richard Pithouse, Benedict Seymour and Rachel Weber.
or
Not Currently Available for Direct Purchase