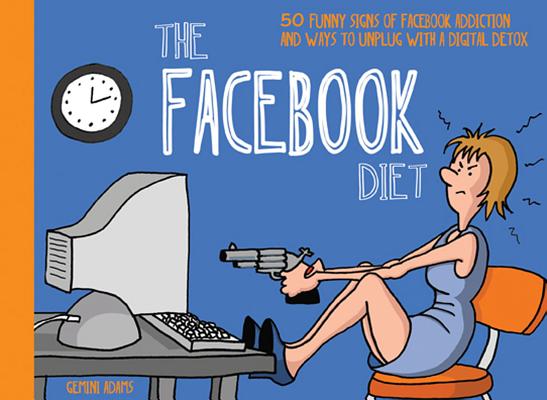 The Facebook Diet
Paperback

* Individual store prices may vary.
Description
A tongue-in-cheek look at our love of social media through 50 hilarious cartoons that complete the question, "You Know You're a Facebook Addict When...?" Award-winning author and artist, Gemini Adams, offers a hilarious look at the most idiotic, embarrassing and cringe-worthy behaviors of our social media excess. With over 1 billion people now on Facebook (that's 1 in every 7 of us) and over 30% checking their account before brushing their teeth or hair in the mornings, it seems most can confess to an addictive Facebook habit; whether it's stalking an ex, faking bathroom breaks to read news, checking-in wherever they go, or art-directing photo's for the perfect profile pic. Packed with funny digital detox tips that gently 'poke' at readers to examine the health of their high-tech habits and unplug once in a while, this laugh-out-loud gift book is guaranteed to bring a smile of recognition to Facebook junkies everywhere.
Praise For The Facebook Diet…
"Addicted to Facebook? It may be time to rethink your priorities, consider a 'Facebook Diet'."  —Huffington Post

"A hilarious gift book. Perfect for friends who might be spending a little too much time online. The Facebook Diet is highly recommended."  —The Midwest Book Review


"Funny, and true, this book offers the devoted Facebook fan a glimpse into their lives. It would also make a great gift to that somebody special in your life who spends way too much time on Facebook. Give them a not-so-subtle hint!"  —Feathered Quill


"A fun, entertaining and giggle inducing read."  —The Bombshell Mommy
Live Consciously Pub, 9780955465635, 144pp.
Publication Date: May 24, 2013
About the Author
Gemini Adams is an artist, educator and multiple award-winning author of three inspiring, life-enhancing, non-fiction books -- The Facebook Diet: 50 Funny Signs of Facebook Addiction and Ways to Unplug with a Digital-Detox, Your Legacy of Love: Realize the Gift in Goodbye, and The Top 100 Recipes for Happy Kids. Her works have been translated into Spanish, Chinese and Japanese, and have earned her the Mom's Choice Gold Award, National Best Book Award, the Dad's Seal of Approval and position as Finalist in the International Book Awards. Originally from Salisbury, England (it's about 10 miles from Stonehenge), she now splits her time between Los Angeles and her home in Bath where she lives with her husband and their two dogs, Paddy and Murphy, who are tasked with keeping Gemini's feet warm while she's writing or drawing!
Book Videos
or
Not Currently Available for Direct Purchase