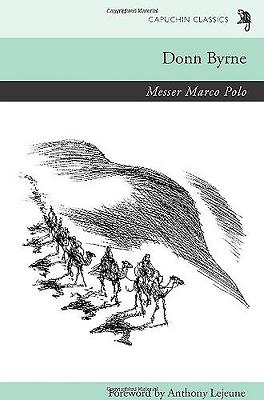 Messer Marco Polo (Paperback)
Capuchin Classics, 9780955731211, 85pp.
Publication Date: June 5, 2008
* Individual store prices may vary.
or
Not Currently Available for Direct Purchase
Description
Here is the convincing, unscholarly, tale of Marco Polo's courtship of Golden Bells, the daughter of Kubla Khan, of his journey from Venice, Bride of the East, to the courts of Cathay, seen through the eyes and told in the brogue of the old Ulster Scotch-Irishman, Malachi of the Glens. 'Messer Marco Polo' is a panoramic tapestry, richly woven of medieval colours, sights and smells, the ivory, apes and peacocks of a lost romance. But beneath the sweetness and light there is the terror and tragedy of the whistling and clangor of the stars as they shot by in their orbits. There is maturity and irony as well as freshness. When Messer Marco Polo appeared in 1921 it charmed the critics; now it is set to captivate a whole new generation nearly a century later.
Advertisement