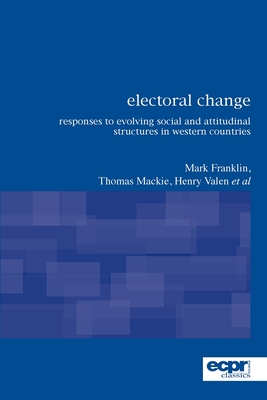 Electoral Change
Responses to Evolving Social and Attitudinal Structures in Western Countries (ECPR Classics)
Paperback

* Individual store prices may vary.
Description
Until the last quarter of the 20th Century, Western party systems appeared to be frozen and stability was generally taken to be the central characteristic of individual-level party choice. But during the 1970s and 1980s, in a spasm of change that appeared to occur in all countries, this ceased to be true. Voters in Western countries suddenly demonstrated an unexpected and increasing unpredictability in their choices between parties, often to the extent of voting for parties that are quite new to the political scene. Understanding these fundamental changes became a pressing concern for political scientists and commentators alike, and a matter of extensive controversy and debate. In the middle 1980s, an international team of leading scholars set out to explore the reasons for these shifts in voting patterns in sixteen western countries: all those of the (then) European Community (except for Luxembourg and Portugal), together with Australia, Canada, New Zealand, Norway, Sweden and the United States. In this book they report their findings regarding the connections between social divisions and party choice, and the manner in which these links had changed since the mid-1960s. The authors based their country studies on a common research design. By doing so, they were able to focus on the characteristics that the sixteen countries had in common so as to evaluate the extent to which the changes had a common source. The passage of time has not dated this book, and in this edition the original text is augmented by a new Preface that describes the ways in which the book's findings retain their relevance for contemporary scholarship, and by an Epilogue in which the main analyses reported in the book are brought up to date.
ECPR Press, 9780955820311, 490pp.
Publication Date: October 1, 2009
About the Author
Mark Franklin's numerous publications include The Decline of Class Voting in Britain, Choosing Europe? and Voter Turnout Tom Mackie is co-author of The International Almanac of Electoral History and of various volumes in the European Voter series. Henry Valen was the author of a large number of works including Political Parties in Norway.