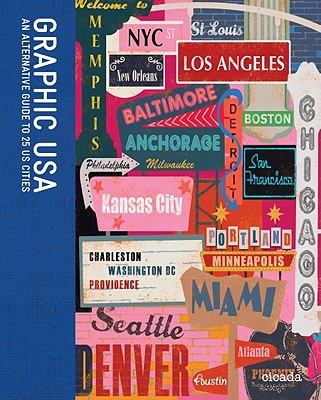 Graphic USA (Paperback)
An Alternative Guide to 25 Us Cities
Cicada Books, 9780956205322, 272pp.
Publication Date: January 31, 2011
* Individual store prices may vary.
Description
Visiting an unfamiliar city is usually best when you have a guide, a knowledgeable local pal who can show you the hidden treasures of his or her hometown. In the most ideal scenario, this friend would be motivated by sensibilities similar to your own--which is why so many traditional travel guidebooks, with their emphasis on well-trod landmarks and obvious institutions, are of such limited utility to travelers with offbeat tastes. But this is no typical guidebook. Abundantly illustrated and lovingly laid out, Graphic USA is like having hip, insightful chaperones in multiple cities across the United States: graphic designers living in 25 metropolises (from capitals of cool like New York, Portland, Miami and L.A. to less predictable locales such as Anchorage, Charleston, St. Louis and Phoenix) were invited to write and illustrate mini-guides to their stomping grounds. With listings for places to stay, bars, restaurants, galleries and clubs, the book gives readers everything they need to live it up like natives in the know. From the blue-collar dive bar that serves tumblers of local whiskey to the slick hotel designed by the hippest architect in town, or the weird restaurant in the strip mall that makes the best breakfast burrito this side of the border--the designer-contributors to Graphic USA have got you covered. All this user-friendly information is accompanied by brilliantly vivid illustrations that reflect the designers' experiences of their cities. A beautiful object as well as a useful guide, this volume offers a truly unique insight into the heart of American culture. The cities included in this book are: Anchorage, Atlanta, Austin, Baltimore, Boston, Charleston, Chicago, Denver, Detroit, Kansas City, Los Angeles, Memphis, Miami, Milwaukee, Minneapolis, New Orleans, New York City, Philadelphia, Phoenix, Portland, Providence, San Francisco, Seattle, St Louis and Washington D.C.
or
Not Currently Available for Direct Purchase