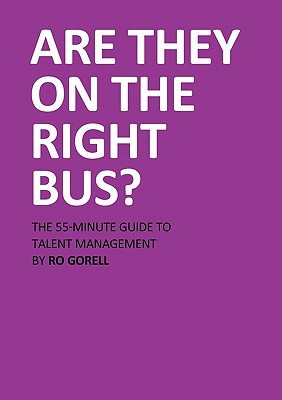 Are They on the Right Bus (Paperback)
The 55-Minute Guide to Talent Management
Verb Publishing Ltd, 9780956467232, 104pp.
Publication Date: June 1, 2011
* Individual store prices may vary.
Description
It's no accident that latent is an anagram of talent; and yet blinkered thinking about the WAR FOR TALENT has driven many organisations to focus their efforts on a tiny proportion of the workforce. Inspired by biz book classic, GOOD TO GREAT, Ro Gorell lifts the lid on what talent management is really about - not only demonstrating why it starts with GETTING THE RIGHT PEOPLE ON THE BUS in the first place, but also providing ten simple principles for how to nurture and sustain the talent that exists, untapped, at every level in your organisation. The simple truth is that TALENT MANAGEMENT IS FAR TOO IMPORTANT TO BE LEFT TO HR ALONE. It's a board-level issue - one that business leaders need to understand and act on strategically in order to successfully leverage this increasingly critical source of innovation and value creation.ABOUT THE BOOKSFar too many business books start with the false premise that offering meaningful insight requires exhaustive detail. They demand a huge investment from readers to wade through all the information provided and draw outwhat is relevant to them.In a rapidly changing, time-starved world, it's an approach that's getting wronger and wronger. What CEOs and other busy business people desperately needis high-level strategic insight delivered in quick, simple, easy-to-digest packages. Co-created by DAN GRAY and KEVIN KEOHANE, that's exactly what the 55-MINUTE GUIDES are designed to do. Instead of some 300-page pseudo-academic tome, they offer fresh perspectives and "must knows" on important topics that can be read from cover to cover in the course of a single morning's commute or a short plane ride. In short, they are the antidote to most business books. A QUICK READ, not a long slog. Focused on BIG IDEAS, not technical detail. Promoting JOINED-UP THINKING, not functional bias. Written to EMPOWER THE READER, not to make the author look clever.They're guided by the simple principle that INSIGHT GAINED PER MINUTE SPENT READING should be as high as possible. No fluff. No filler. No jargon. Just the things you REALLY need to know, written in plain English with clear and simpleillustrations.
or
Not Currently Available for Direct Purchase