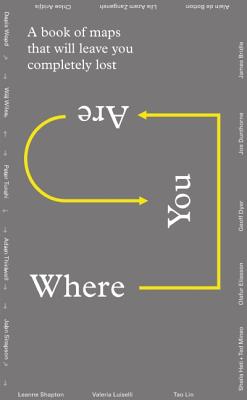 Where You Are (Paperback)
A Collection of Maps That Will Leave You Completely Lost
Visual Editions, 9780956569240, 465pp.
Publication Date: December 31, 2013
* Individual store prices may vary.
Description
Every day we map. We map how we get from a to b. We map when we re somewhere new, and somewhere we ve been many times before. We map ourselves, our days, our thoughts, memories, what we want to mark, save and share. Today it seems, that most of the time, despite all this mapping, we actually don't have a clear sense of where we are.
WhereYou Are, a collection of new work, explores the shift from our classic understanding of map as geography to a more personal, human map. This collection of new writings, photographs, drawings, thinking looks to explode the map as we know it. A book of maps that puts people, not destinations at the centre, hoping to leave readers feeling completely lost.
A collection of work, edited by Visual Editions, made with help by our friends at Google Creative Lab, published as a book and on the screen.
About the Author
Chloe Aridjis: Book of CloudsLila Azam Zanganeh: The Enchanter James Bridle: New AestheticAlain de Botton: Religion for Atheists Joe Dunthorne: SubmarineGeoff Dyer: Jeff in Venice, Death in Varanasi Olafur Elliason: The New York City WaterfallsSheila Heti: How Should a Person BeValeria Luiselli: Faces in the Crowd Leanne Shapton: Was She PrettyJohn Simpson: World Affairs Editor, BBC World NewsCraig Taylor: The Londoners Adam Thirlwell: Kapow!Peter Turchi: Maps of the Imagination Will Wiles: Care of Wooden Floors Denis Wood: The Power of MapsTao Lin: Shoplifting from American Apparel
or
Not Currently Available for Direct Purchase