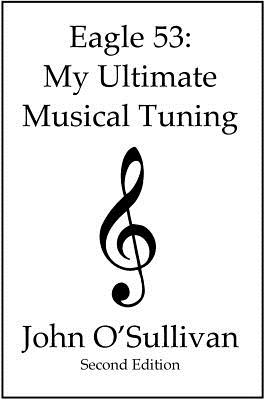 Eagle 53 (Paperback)
My Ultimate Musical Tuning: Second Edition, the Mathematics of Music, Microtonal Theory and Alternative Tunings
Pan Music Publishing, 9780956649263, 86pp.
Publication Date: June 16, 2017
* Individual store prices may vary.
Description
This book is about a new 12 notes per octave tuning called Eagle 53. It took me 21 years to work it out. Some notes are higher than usual and some lower in varying degrees. Major or minor chords are not available on three of the twelve notes but where they *do* occur they are much more, almost perfectly, in tune. Also some new and exotic chords and scales occur that you won't get in the standard Western tuning: 12 Tone Equal Temperament. Eagle 53 tuning is suitable for pianos and MIDI keyboards that can be retuned with the right software and for guitars (which need refretting to accommodate the new tuning). This book describes how I worked it out, the rationale behind Eagle 53. Just Intonation is also covered in the book. Eagle 53 is a slightly tempered version of this just tuning...
1/1, 16/15, 9/8, 6/5, 5/4, 4/3, 7/5, 3/2, 8/5, 5/3, 9/5, 15/8, 2/1
There is more information, some music, videos and photos on my web site...
www.johnsmusic7.com
Check it out
There is a condensed and cheaper ebook version of this paperback available on Amazon. The title is: Eagle 53 Musical Tuning.