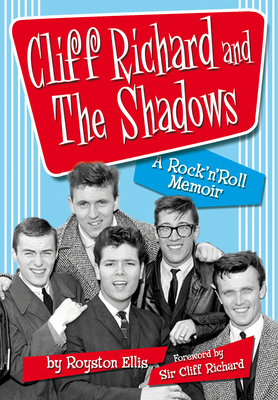 Cliff Richard and The Shadows – A Rock & Roll Memoir (Paperback)
Tomahawk Press, 9780956683472, 200pp.
Publication Date: February 2, 2015
* Individual store prices may vary.
Description
In 1959 teenage poet Royston Ellis teamed up with Cliff Richard's group, the Drifters (later called The Shadows) and appeared with them on television and stage shows performing his unique brand of 'rocketry' (rock 'n' roll poetry). He became closely associated with Cliff, Jet, Tony, Hank & Bruce and wrote the first ever book about them, Driftin' With Cliff Richard followed by the 1961 biography The Shadows. 
These much sought-after books have been long out of print. Royston Ellis has agreed to combine and expand the content of these two books into a new book, Cliff Richard and The Shadows – A Rock & Roll Memoir. This new book recalls insights of days and nights spent with Cliff and the Shadows between 1959 and 1961. 
Largely regarded as THE spokesman for the British Rock & Roll generation, Royston Ellis now re-evaluates how Cliff and The Shadows represented the hopes, aspirations and values of British teens at the dawn of the swinging 60s, when things would change forever. 
Cliff Richard and The Shadows – A Rock & Roll Memoir is a timeless snapshot of an era that only lasted a few years, but whose importance would reverberate for decades. This beautifully designed book includes rare photos.
About the Author
Royston Ellis is a British writer, biographer and poet. As poet, he's the main British representative of the Beat Generation. John Lennon called him England's answer to Allen Ginsberg.
He began his career with two poetry collections: "Jiving To Gyp" (1959) and "Rave" (1960).
In the following years, he performed these sequences of poems on stage and TV (e.g.'Living for Kicks'), accompanied by rock music. His mix of poetry and rock music was called "rocketry. From 1960 to 1961, he was backed by some of greatest British Beat Musicians such as The Shadows, Jimmy Page (later of Led Zeppelin) and the Beatles when they were still unknown. It was Ellis who suggested these latters spell Beetles with an "a" instead of the "e", as they were inspired by the Beat generation and played beat music.
The Beatles immortalized him in their song "Paperback Writer".