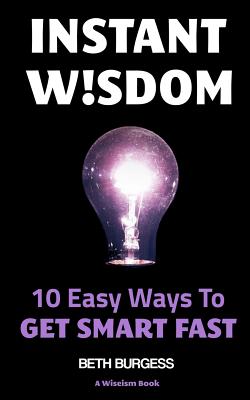 Instant Wisdom
10 Easy Ways to Get Smart Fast
Paperback

* Individual store prices may vary.
Description
This book will make you smarter, more capable and more creative, super-fast - whatever your IQ. Have you ever had a problem at home, work or in a relationship that you just couldn't figure out how to solve? Have you felt stuck and frustrated because you can't come up with a good solution? Maybe it's a problem that's been niggling at you for ages, draining your energy and making you unhappy. Or maybe it's an ambition or project which you can't seem to complete or achieve, no matter how hard you try.
Eightball Publishing, 9780957321731, 178pp.
Publication Date: March 16, 2018
About the Author
Beth Burgess was a total mess and is now a respected therapist and coach, an avid learner, and a writer. She is the founder of wiseism.com, a resource to help people use wisdom to improve their lives. This book is the first in the Wiseism series. Beth's life missions include helping as many people as possible to achieve a wiser life. Beth is not a know-it-all, but is keen on researching, reading and experimenting. If she could live in a house made of books, she would. She hopes you will forgive her odd sense of humour. But having fun while you learn makes you remember things better. Well, that's her excuse anyway...