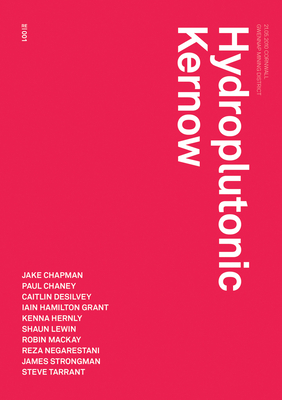 Hydroplutonic Kernow
Paperback

* Individual store prices may vary.
Description
A geophilosophical odyssey through the remains of Cornwall's industrial past offers a historical portrait of geotrauma in action.
This unique document provides a pioneering case study in post-"site-specific" geophilosophy. Based on a weird field trip into Cornwall's mining heartlands with geologists, philosophers, and ecologists as guides, Hydroplutonic Kernow drills down through nature, industry, and cultural capital to site the local within the global, unfolding the telluric plots that manipulated populations and devastated the landscape during the industrial age. In doing so, it provides a historical portrait of geotrauma in action.
This geophilosophical odyssey takes us through the remains of the region's industrial past, reading them through the twisted prism of the geocosmic theory of trauma espoused by legendary "cryptographer" Dr. Daniel Barker and further developed by Iranian philosopher Reza Negarestani, and uncovering the deep plot of the Hydroplutonic Conspiracy, the collusion between water and the depths of the earth.
Along with full documentation of the trip, the book also contains exegetical materials including an essay by Reza Negarestani, a poem by Jake Chapman, a preface by Caitlin DeSilvey, and an in-depth interview with Mining Engineer Steve Tarrant.
Urbanomic, 9780957529540, 208pp.
Publication Date: August 11, 2020
About the Author
Robin Mackay is a philosopher, Director of the UK arts organization Urbanomic, and Associate Researcher at Goldsmiths University of London.Caitlin DeSilvey is Associate Professor of Cultural Geography at the University of Exeter, and Associate Director of the Environment and Sustainability Institute at Exeter's campus in Penryn, Cornwall.