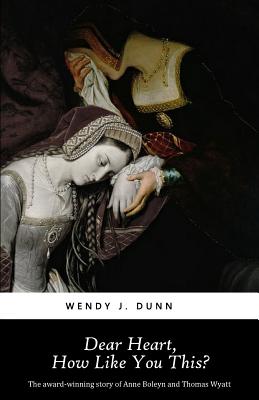 Dear Heart, How Like You This? (Paperback)
Poesy Quill, 9780958054355, 372pp.
Publication Date: August 5, 2002
Other Editions of This Title:
Paperback (7/13/2017)
* Individual store prices may vary.
Description
A king who would not be denied,
a woman who would be queen,
and a gentle poet forced to watch helplessly,
as his one true love slips out of his arms forever...
Dear Heart tells the story of Anne Boleyn, the second wife of Henry VIII. The story is told from the point of view of Anne's cousin, Sir Thomas Wyatt.
Tom has secretly loved Anne his entire life, but has always been told he is not highly born enough to pursue her. He carefully hides his feelings, especially after Anne catches the eye of the king, but he remains at Anne's side as one of her staunchest friends and supporters.
Then the unthinkable happens.
After marrying Anne, the king tires of her and falsely accuses her of adultery. Imprisoned himself on the whim of the king's arrogant brother-in-law, Tom watches helplessly as his true love and his closest friends go on trial for their lives...
This is is a novel that grips you before the end of the first sentence and doesn't let go until the bitter end. In Dunn's more than capable hands, Anne Boleyn comes to life, first as a whimsical child, then as a hurt and angry teenager, then as a woman both frightened and exhilarated by the dangerous game she is playing, and finally as a bruised, but not broken, victim of the king's cruelty.
Through Anne's tumultuous life, her cousin Thomas is a spellbinding narrator, reporting the events around him with a reporter's keen eye and a poet's tender heart.
Reviews
"...an evocative and engaging story of love and friendship, blossoming from the bonds of early childhood, only to be torn apart by the sensual desires of a selfish king."
"Though framed as an account of arguably the most famous of Henry VIII's six wives, Dear Heart is far more than another re-telling of a well-trodden tale. For entwined with the glamorous, ultimately tragic, story of Anne Boleyn's life and death, is that of an inherently good man's struggle with the evils of his time, and of the toll that is often exacted of those who finds themselves immersed in the sweeping tides of historical change."
"I have read every novel I ever found about Queen Anne Boleyn and enjoyed them all. This one was special and very refreshing While adhering to main historical events, Wendy Dunn takes us on a mental and emotional adventure into possibilities of personal relationships."
"A wonderful, wonderful novel. Seriously the greatest book I have read about Anne Boleyn. This book takes you inside their world and you have a hard time leaving it... "