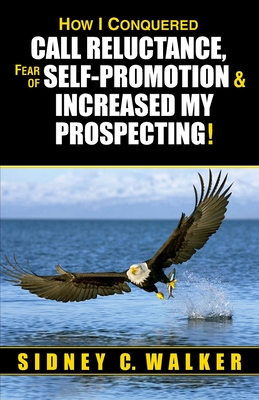 How I Conquered Call Reluctance, Fear of Self-Promotion & Increased My Prospecting! (Paperback)
High Plains Publications, 9780962117770, 174pp.
Publication Date: November 4, 2015
* Individual store prices may vary.
Description
This book will increase your prospecting for new business
Everybody is promoting something, and most of us have some resistance to the process of getting other people interested in whatever you are offering.
The resources in this book are from thirty years as a full-time sales performance coach. This information has helped thousands of people break through their barriers and find the will to make the prospecting calls they need to make. Many different perspectives are presented because everyone is different. The key is finding a state of mind that allows you to take action.
From a bigger perspective, this book is about how to positively deal with the resistance you have to doing what you need to do to succeed. There is a part of you that doesn't want to take any risks, but there is a part of you that is practically fearless. If you can learn to block out the part that is putting on the brakes and listen more carefully to the part that can do anything...you can find a way to make the prospecting calls you need to make
*****
"Extraordinarily 'reader friendly' in tone, commentary, organization and presentation, "How I Conquered Call Reluctance, Fear of Self-Promotion & Increased My Prospecting " is a impressively informative read from beginning to end. Imminently practical, this is one of those life-changing books that will linger in the mind and memory long after it has been finished and set back upon the shelf. Very highly recommended for community and academic library Self-Help/Self-Improvement reference collections."
Small Press Bookwatch: James A. Cox, Editor-in-Chief, Midwest Book Review
"Sid helped me develop an approach to prospecting and self-promotion that took me from struggling...to being in the top 1% of my company of 7,000 reps. If you are facing this kind of challenge, this book is the perfect place to start "
Randall G. Riley, CLU, ChFC; Northwestern Mutual
"I nearly quit my sales position in my tenth year working in downtown Manhattan. A turning point was learning the psychology of Sid's approach to overcoming prospecting resistance which is timeless and priceless. Within a year, I was earning over $1 million a year. It's all right here in this book."
Barbara Treadwell, CLU, ChFC, CFP; Treadwell & Associates